Sand Painting For Kids
Kidoodles: Textural Sand Painting Creation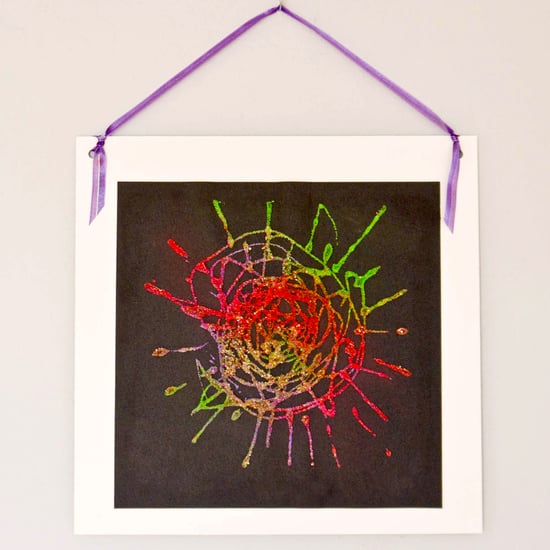 Turn a glue bottle into a drawing tool with this fun and exciting sand painting craft. This is a great activity for lil ones who are just learning how to use glue and need a bit of help with the concept of staying within the lines. You can use basic play sand for this project or pick up colored sand at your local craft store for a really cool creation. Between squeezing the glue and focusing on pinching and sprinkling the sand, this art activity is perfect for honing fine motor skills and boosting hand-eye coordination in kids!
Keep reading for the super easy directions.
What You'll Need:
Black construction paper
Pencil
Glue
Sand
Mat board
Hole punch
Length of ribbon
Directions:
Help your lil one decide on a design for creating the sand painting. You can go with something as basic as a few shapes for younger tots or a detailed design created by older kids. Once your child is happy with the drawing, replicate it on the black sheet of construction paper using a pencil. Or if you have a lil one, help out by drawing the design for him.
Now offer your child a bottle of glue that is open so a gentle stream of glue comes out when squeezed. Invite your tot to follow the pencil line with the glue bottle while squeezing out a line of glue. And if things turn into a big glue blob, that's OK. The finished result will still look really cool!
While your child is busy covering the pencil lines, pour a bit of the sand in a small container, or several if you are using colored sands.
Once your child has finished covering the pencil lines with glue, offer your child the sand and encourage him to pinch and sprinkle the sand over the glue until it is all covered.
Allow the sand painting to dry overnight. Finish the artwork by trimming the construction paper and then gluing to a section of mat board. Use a hole punch to pop a hole in each of the top corners, thread with a length of ribbon, and hang in a special spot in your home.