Sandra Bullock Thanks Mom in Oscar Acceptance
Sandra Bullock Recognizes All Mothers in Oscar Acceptance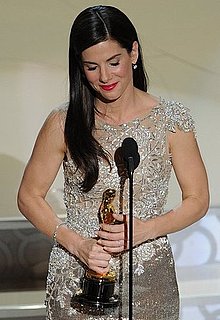 In an emotional Oscar acceptance for her portrayal of Leigh Anne Tuohy in The Blind Side, Sandra Bullock recognized all mothers and her own in a touching speech. She said:

"I would like to thank what this film was about for me, which are the moms that take care of the babies and the children no matter where they come from. Those moms and parents never get thanked. I, in particular, failed to thank one so if I can take this moment to thank Helga B. for not letting me ride in the car with boys until I was 18 because she was right and I would have done what she said I was going to do. For making me practice every day when I got home — piano, ballet whatever it is I wanted to be. She said to be an artist you had to practice every day and for reminding her daughters that there is no race, no religion, no class system, no color, nothing, no sexual orientation that makes us better than anyone else. We are all deserving of love, so to that trailblazer who allowed me to have that and this and this. I thank you so much."
What did you think of her words?