Sandy Hook Mom's Letter
A Sandy Hook Mom's Wish For the New School Year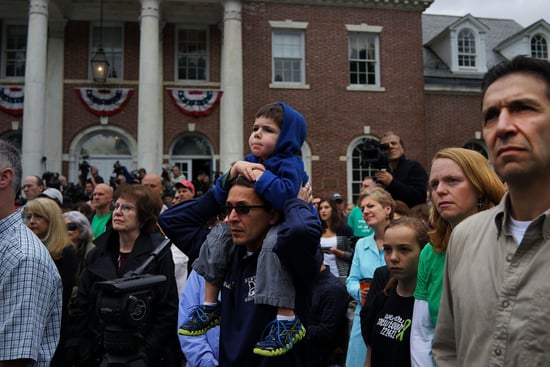 If there is anyone who is qualified to give parents and teachers perspective as they kick off the new school year, it's Nelba Marquez-Greene, one of the parents who lost a child — 6-year-old Ana Grace — in last year's tragedy at Sandy Hook Elementary. Marquez-Greene works as a marriage and family therapist and the mental health and relational-wellness director for Sandy Hook Promise, the nonprofit organization that was founded in the wake of the incident to support those directly affected. She recently published an open letter to teachers and other school employees in Education Weekwith a message of "courage, faith, and love." After reading it, there wasn't a dry eye in our office. Below, find a few of the takeaway highlights of the letter that stuck with us:
"When I asked my son's teacher why she returned, she responded, 'Because they are my kids. And my students need me now more than ever.' She sent daily updates on my son's progress, from his behavior to what he'd eaten for lunch. And four months later, when my son finally smiled one day after school, I asked him about it. His response? 'Mom. My teacher is so funny. I had an epic day.'"
"When you Google 'hero,' there should be a picture of a principal, a school lunch worker, a custodian, a reading specialist, a teacher, or a bus monitor. Real heroes don't wear capes. They work in America's schools."
"Your courage will support students who are left out and overlooked, like the isolated young man who killed my daughter. At some point he was a young, impressionable student, often sitting all alone at school. You will have kids facing long odds for whom your smile, your encouraging word, and your willingness to go the extra mile will provide the comfort and security they need to try again tomorrow."
"Every opportunity you have to create welcoming environments in our schools where parents and students feel connected counts."
To read the letter in its entirety, click here. We hope that Marquez-Greene and Ana Grace's message touched you as much as it did us. Have you changed the way that you parent in the wake of the Sandy Hook tragedy?