Save the Children Breastfeeding Report
How 830,000 Infant Lives Can Be Saved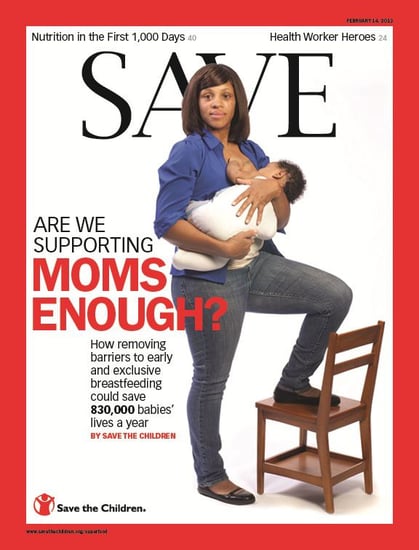 You knew that breastfeeding was beneficial, but did you know that if all women breastfed their babies immediately after birth, the lives of some 830,000 infants a year could be saved? Save the Children released its Superfood for Babies study yesterday, identifying both the benefits of breastfeeding, and the four most significant barriers that prevent women across the globe from being able to nurse their newborns. Here's what you need to know:
Why Breastfeeding Immediately After Birth Is So Beneficial:
Colostrum immediately jump-starts a baby's immune system.
Early breastfeeding leads to higher rates of exclusive breastfeeding for the first six months, which reduces infants' vulnerability to malnutrition and deadly disease.
Breastfeeding is the most effective solution to reducing childhood mortality.
Four Global Barriers to Breastfeeding:
Family pressure and cultural beliefs that colostrum is dirty.
Lack of a skilled healthcare worker to aid in the process at 1/3 of all births.
Lack of maternity leave and supportive workplace policies.
Direct marketing of formula to both mothers and health professionals.
If you're scratching your head wondering how these issues apply to us here in the US, consider this: many American women report that they don't receive the support that they need when it comes to breastfeeding. We have the industrialized world's lowest level of protection when it comes to maternity leave. Only around seven percent of US births occur in "baby friendly" hospitals that meet the World Health Organization and UNICEF guidelines for promoting breastfeeding. And while malnutrition isn't as prevalent of an issue here as it is in developing nations, more than one third of children in the US are overweight or obese, and breastfeeding has been proven to lower baby's chances of childhood obesity.
"Last year, we saw a lot of handwringing in this country over how long is too long for moms to breastfeed. But the real scandal is that many moms around the world don't get the support they need to start breastfeeding early — or even at all. It's a choice all moms should have, and in the developing world it can literally be a matter of life and death for their babies," said Carolyn Miles, president and CEO of Save the Children.
What You Can Do: Click here to sign Save the Children's petition for a renewed commitment to the 1,000 Days Call to Action — a lifesaving initiative that improves nutrition for pregnant women and their babies.