School Lunch Napkins Now Works of Art
Mom's Incredible Drawings For Sons' Lunch Boxes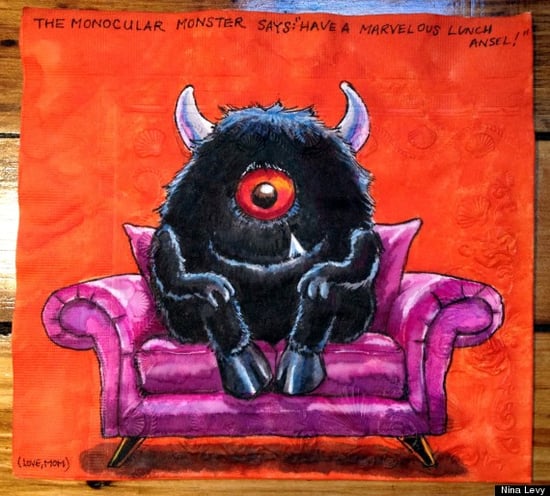 Some kids collect rocks or marbles. Ten-year-old Archer and his 6-year-old brother, Ansel, collect napkins . . . their mom's, that is.
Every day since Archer was in nursery school, Nina Levy has created colorful napkin illustrations and packed them with her sons' lunches to remind them that she loves them and is mindful of what they're doing each day, reports the Huffington Post.
"The act of drawing something for them every evening reminds me to pay attention to what they are thinking about, even if it is the 15th rendition of Batman," she says.

The creative napkins became such a hit that Archer and Ansel slowly began bringing more and more of them home at the end of the day. And after garnering even the New York Times' attention, Levy has begun collating the art into a series, "24 hours of dysfunctional parenting," that tells the story of a day in the life of her family.
With such works of art, the boys might give up a tuna sandwich or even a cookie from their school lunches, but it's unlikely that they'll trade away their napkins.