Sex and the City 2 Kids Rooms 2010-05-27 10:00:40
Lil Exclusive! Sleep Like SATC's Lily and Rose Goldenblatt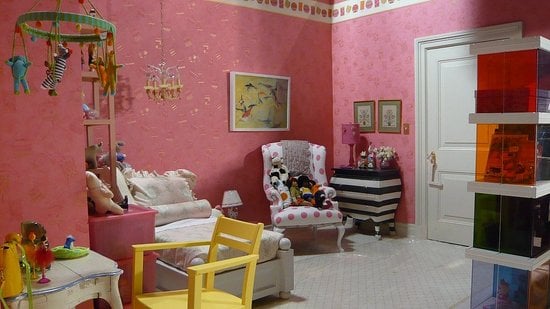 Space is limited in New York even for the Sex and the City kids! Charlotte's daughters Lily and Rose Goldenblatt have to bunk up in the latest film, but close quarters encourage lots of sisterly bonding! We loved Lily's pink lair (pictured above) in the first movie and recently chatted with Lydia Marks, the SATC set decorator, about her thoughts on the new shared space.
BabySugar: Two years have passed since the first film, how did the room evolve?
Lydia Marks: The two girls [now] share a bedroom, so they had to have a new room in this film. We had to fit two twin beds into the room and then set dressing and character dressing for both ages of girls. We had the liberty, because of the time change, to change the decoration. We also had the liberty because [Rose] moved into a baby bed in the same room as her sister.
BabySugar: What was the inspiration for Lily and Rose's room, and what did you use to try to achieve it?
Lydia Marks:We needed the room to be very bright in color and filled with personality . . . because the bathroom was very white. We wanted to mix the really modern pieces with the really classic pieces, sort of like Charlotte did in the rest of her apartment. So we used beautiful bed linens, very traditional bed linens, and then Vitra bookshelves across from the bed that had different color Plexiglas doors on it, so it was really modern. So we tried to do a lot of that kind of mixing, that was one of our goals.
BabySugar: How did you include the girls' diverse backgrounds in the room?
Lydia Marks: In the first movie we had a whole doll collection. We wanted this collection to be an attempt for Charlotte to educate her daughter about all different ethnicities and being inclusive. So we continued that theme in this room. On the Vitra shelves there was a huge mix of fabulous objects and stuffed animals from all different places, different ethnicity dolls, and little sculptural toys. So we did it mostly with dolls and also with the wallpaper. [It] had a little bit of an Asian theme to it — a paper lantern border.
To see which brands Lydia used to decorate the room, read more.
Resources used to create the Goldenblatt girls' bedroom: