Sharing Breast Pumps
Did You Share Your Breast Pump?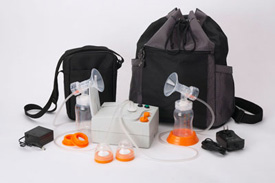 With baby formula costing parents about $1 an ounce, it is no wonder many new moms are making the decision to nurse their newborns. But breastfeeding isn't always a free ride. Most new moms think that the car seat, crib and stroller will be their major investments, but breast pumps don't come cheap either.
Though some women opt to rent pumps from their hospital, 67 percent of LilSugar readers opted to buy their own, and the contraptions can cost as much as $300. Breast pumps from major companies, such as Medela, come with warnings that they are not to be shared or used by other women, though some women do share them, buying accessory packs and modifying the tubes themselves. The Hygeia EnJoye ($260) is designed to be the first reusable personal pump, with additional pumpers simply purchasing their own personal accessory set ($35). Did you share your breast pump with someone, or borrow one from a friend?