Shopping For Kids With Food Allergies
A Makeover For Your Grocery List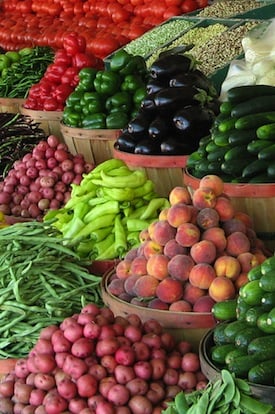 If your child has been diagnosed with a food allergy, you know both cooking at home and dining out can quickly become a challenge. Since healthy eating begins at home, and eating at home begins at the grocery store, we turned to Amie Valpone of The Healthy Apple for some advice on how to stock your pantry for success, whether you're dealing with food allergies or just want to take a cleaner approach to your family's diet. See how Amie, a nutritionist who specializes in clean eating, fills up her own grocery cart, and how you can transform your own to accommodate your family's dietary needs.
"Cleaning" Up Your Grocery List
Essential Condiments
Extra-virgin olive oil
Flaxseed oil
Grape seed oil
Champagne vinegar
Apple cider vinegar
Balsamic vinegar
Organic Dijon mustard
Organic coarse, seeded mustard
San-J wheat-free tamari soy sauce
Amy's Organic salsa
Sun-dried tomatoes
Hummus (try Tribe, Wild Garden, Sabra, or Cedar's)
Hot sauce (try Cholula or Sriracha)
Miso (white, barley, and red)
Organic lemon juice
Continue reading for what to buy in the gluten-free, dairy-free, and freezer departments.
Gluten-free Starches
Gluten-free pasta
Gluten-free bread (try Rudi's, Udi's, Glutino, or Canyon Bakehouse)
Rice (brown basmati, wild, risotto, long-grain, and Bomba)
Bob's Red Mill gluten-free oats
Mary's Gone Crackers bread crumbs
Millet
Corn
Buckwheat
Amaranth (a nutty, high-protein grain)
Quinoa
Teff (a light, whole-grain flour)
Potatoes (sweet and purple varieties)
Beans (mung, white, black, and chickpeas)
Lentils (yellow, red, brown, green, black, and vertes du Puy)
Split peas
Healthy Dairy/Dairy-Free Alternatives and Eggs
Greek plain yogurt (try Chobani, Fage, Siggi's, or Stonyfield Oikos)
Pacific Foods Unsweetened Almond Milk
Manitoba Harvest Hemp Milk
Woodstock Farms Firm Tofu
Nasoya Lite Firm Tofu
Eggland's Best Organic Eggs
Eggology 100% Egg Whites
Earth Balance Vegan Butter
And a note from our friends at YumSugar . . . for the lactose-intolerant or -sensitive, try substituting cow's milk with goat's milk, and soft cheeses (mozzarella, burrata) with harder ones (parmesan, pecorino).
Keep in the Freezer
Unsweetened frozen fruit (berries, peaches, bananas, pineapple)
Artichoke hearts
Broccoli
Cauliflower
Lima beans
Pureed Winter squash
Large uncooked shrimp
Preportioned organic chicken breast
Vital Choice low-mercury white fish and scallops
Seapoint Farms Frozen Edamame
Cascadian Farms Frozen Organic Vegetables
For more of what to stock in the rest of the kitchen, check out The Healthy Apple's complete shopping list.
Source: Flickr User Natalie Maynor