Sh*tty Mom Parenting Guide
Sh*tty Mom Parenting Guide: Ga Ga or Gag?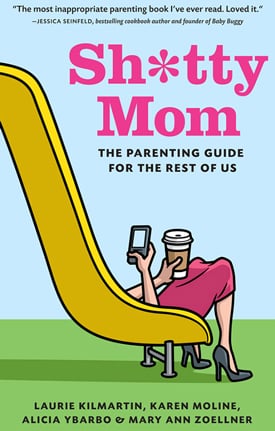 Touted as "the most inappropriate parenting book I've ever read" by Jessica Seinfeld and "hilariously entertaining; a must-read survivor's guide" by Christy Turlington Burns, brand-new book Sh*tty Mom: The Parenting Guide For the Rest of Us is getting loads of attention for its irreverent attitude toward motherhood. Written by four moms who have day jobs at Conan and the Today show, multiple books, and at least seven Emmy awards on their collective résumés — and six kids between them — the book is a tongue-in-cheek take on the craziness that is parenting.
Each chapter (examples include "How to Sleep Until 9 a.m. Every Weekend," "How to Leave Your Baby in the Car While You Run Into a Store For a Few Minutes," and "When Seeing an Infant Triggers a Mental Illness That Makes You Want to Have Another Baby") introduces a common parenting scenario and then provides advice on how to get through it easily and efficiently. Add in a Sh*tty Mom quiz, and you've got a totally uncensored, hilarious sharp look at modern motherhood sure to make you laugh out loud. So what do you think? Are you going to add Sh*tty Mom to your library? Weigh in below!