Simple Black Bean Soup
Kid-Friendly Comfort Food: Black Bean Soup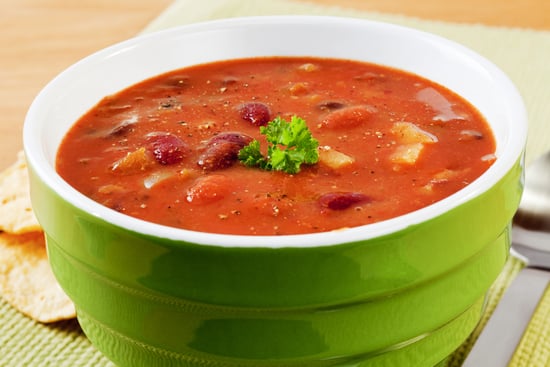 My kids have always loved black beans, so I went looking for a way to make them into a more substantial meal instead of a side dish. This simple soup hits the spot. For richer flavor, you could use some chicken stock, but I like this version because it can be completely vegetarian.
Keep reading for the recipe.
Black Bean Soup
Amanda Haas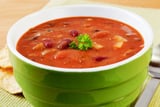 Ingredients
1 1⁄4 cups dried black beans
1 tablespoon olive oil
3 cups chopped onion
1 cup chopped red bell pepper
1 tablespoon ground cumin
1 teaspoon dried oregano
4 garlic cloves, minced
2 cups vegetable broth
2 cups water
2 tablespoons fresh lime juice
1 teaspoon hot pepper sauce
1⁄2 teaspoon kosher salt
1⁄4 teaspoon freshly ground black pepper
Optional toppings:
Shredded Monterey Jack cheese
Finely chopped onion
Light sour cream
Chopped fresh cilantro
Directions
Sort and wash beans; place in a large saucepan. Cover with water to 2 inches above beans; bring to a boil. Cook 2 minutes; remove from heat. Cover and let stand 1 hour. Drain beans.
Heat a large saucepan over medium-high heat. Add oil; swirl to coat. Add onion and bell pepper; cook 8 minutes or until tender, stirring frequently. Add cumin, oregano, and garlic; sauté 1 minute. Add beans, vegetable broth, and water. Bring to a boil; partially cover, reduce heat, and simmer 1 hour and 30 minutes or until beans are tender.
Place half of bean mixture in a blender. Remove center piece of blender lid (to allow steam to escape); secure blender lid on blender. Place a clean towel over opening in blender lid (to avoid splatters). Blend until smooth.
Return puréed soup to pan. Stir in lime juice and next 3 ingredients (through black pepper). Ladle soup into bowls; top evenly with cheese, onion, sour cream, and cilantro, if desired.
Serves 8.
Information
Category

Soups/Stews, Bean

Cuisine

North American