Solution For Missing Socks
Snappy Socks: Ga Ga or Gag?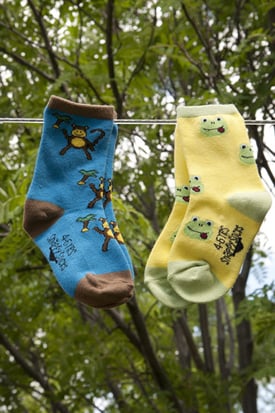 Toddlers' socks are adorable. They're small, they often have silly patterns on them, and they can totally make a tot's outfit — unless one has disappeared into that mysterious abyss full of missing socks.
For decades laundry folders have tried to solve the mystery of the missing sock to no avail. Now a new company is hoping to bypass the problem altogether. Snappy Socks "snap-to-fasten" so pairs of socks are kept together during the washing and drying process. Available in infant ($4), toddler ($4), and child sizes ($5), the socks come in a variety of patterns ranging from cute animals and characters to camouflage and polka dots. If you've ever experienced the case of the runaway sock, would you consider Snappy Socks?