Spending Time in Nature With Kids
6 Tips to Help Your Child Connect With Nature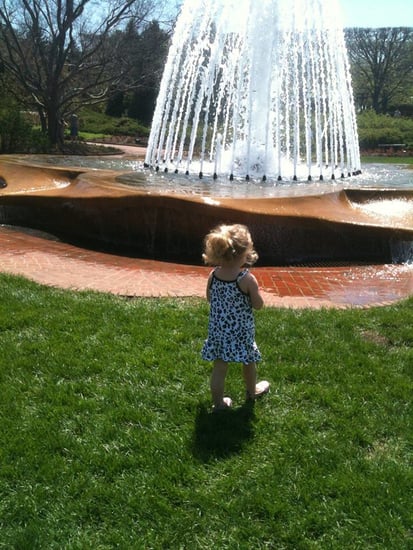 These days kids more commonly commune with their computers than with Mother Nature. While our generation spent days playing outside and reporting back home only after the last firefly was safely housed in a jar, today's generation is more disconnected with the environment than ever before.
Between schedules packed with soccer practices, flute lessons, and neuroscience studies at age 8, childhood rites like exploring, jumping in puddles, digging in the mud, and climbing trees seem to get lost in the virtual world of Angry Birds.
Many Circle of Moms members like Mary L. believe that connecting kids with nature helps create a generation of happier, healthier children with more awareness and connection to the natural world. "It's much better and healthier for kids to get out in the fresh air and sunshine and play," she says.
Here, Circle of Moms members share their best tips on strengthening a child's connection to nature.
1. Plant and Pick
For moms like Cynthia M., taking kids to pick blueberries, strawberries, apples, or any other kind of fruit is a fun way give kids a close-up lesson that food is grown outside — and doesn't magically appear on the table or through the drive-through window. As Cynthia shares of her daughter on the blog Apple Cheeks McGillicutty, "Emma loved helping as much as she loved eating . . . and helping her mama make some jam with all of those blueberries," says Cynthia. Her advice for picking adventures: since fruits are seasonal, check out crop calendars in your area to find nearby farms or orchards where produce is available.
Circle of Moms member Kim V. says she enlisted her kids' help in digging a vegetable garden to help them make the connection between the food they eat and where food comes from. "I encourage them to plant alongside us," she says. They plant "various kid-friendly vegetables and fruits that are easy to grow, including peas, green beans, potatoes, carrots, zucchini, tomatoes, kale, strawberries, and blueberries."
Cindy Y. says she's very pleased with the results that happened when she introduced her son to nature via planting "whatever he wanted to." She adds, "By the middle of the Summer, he had a fun and magical place to play and he learned all about where his food comes from." 
2. Go on Walks
Circle of Moms member Amy T. employs a simple strategy to connect her child to nature. "Going for a walk to look at trees" is her basic but effective technique.
Similarly, Amy E. says she grabs the stroller and takes her 3-year-old outside for what she calls "a sensory journey to see and smell the blooms and fresh air." She adds, "You can help your child to notice his natural surroundings. Our son is very energetic and loves playing with things that have texture. Taking him on a walk and heading for the park where he can explore the texture of flowers, leaves, and even the dirt lets him have fun."
3. Include Adventure Toys

Linda B., author of the blog Nature Mom, is the first to admit that when she asks her kids to head outdoors for a walk to the park or a hike in nature, they act like they're being tortured. The trick to coaxing them off the couch or away from the computer screen is to create a sense of adventure, she says. "Making our hikes into an adventure instead of a death march makes the outing more fun for the kids," she says. "The goal for any hike with kids should be to simply have fun . . . not to give mom or dad a nice, long hike." To strengthen the connection to nature, she brings along "adventure toys," including binoculars, bug boxes, a magnifying glass, and a camera for her kids to record the experience.
4. Get Dirty
Nature is an imagination station according to Yuliana P., who also is a big proponent of allowing kids the freedom to explore nature on their own. "I have a 1-year-old girl and she likes to taste everything that she finds on the ground," she says. "She also likes to share with me all the things she finds as if they were amazing discoveries. That is my daughter's favorite outdoor activity." Samya S. also likes to let her kids "dig in and explore the dirt." She adds, "My kids love to play outside with rocks, sand, and water, and to dig in the dirt," she says. "Toddlers love to muck around in mud and earth, so keep an eye on them not to eat the mud, but let them explore."
5. Collect and Craft
Kids love to collect things, so go crazy "exploring nature" with them, recommends Patricia T., who adds that kids need "the freedom of exploration to find their own connection with nature." 
Joyce C. encourages her kids to collect treasures outside — leaves, acorns, grass, flowers, etc. — and create works of art using these natural objects. "An obvious choice while outdoors is to have children collect things, then create something to treasure with the objects," she says.
Cathy H., meanwhile, lets her daughter gather leaves of different shapes and sizes. When they get home, Cathy draws a big tree trunk on construction paper, so her daughter can "glue each leaf onto the tree to create a little piece of 3D art for the house," she says.
6. Be a Role Model
In the end, moms like Lucy F. say a mom's attitude toward nature makes all the difference. "I think it's all about how things are presented to kids," she says. "If, when they are getting on your nerves you tell them 'go on outside' to get them from under your feet, they will probably see it as a punishment." By doing fun activities outside as a family — taking trips to visit a farm, riding bikes, and going to the beach and park — she hopes she has created an atmosphere where her kids "see outdoor activities as a treat rather than a punishment."