Spinach and Feta-Stuffed Chicken
Jenny Hill's Spinach and Feta-Stuffed Chicken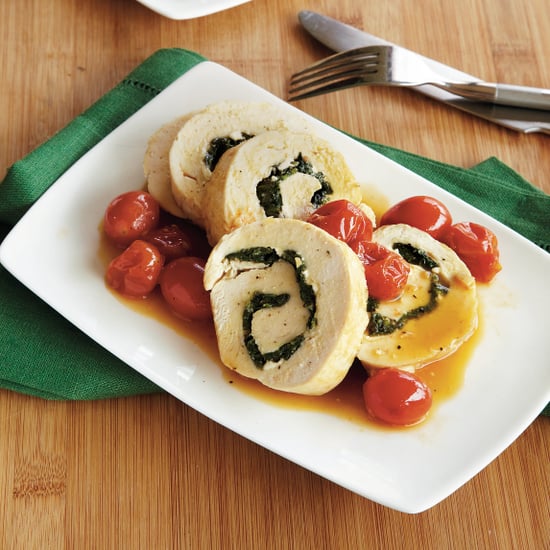 My friend, Jenny Hill, is a fantastic home cook and a great follower of One Family One Meal. Because she is my biggest fan, I had to ask her for her favorite recipe. Her husband, Wayne, said this is it by far. Don't you love the simple ones that are so good?
Keep reading for the recipe.
Spinach and Feta-Stuffed Chicken
One Family One Meal
Notes
Boneless chicken breast may be healthy, but it's often boring. Not this version! Stuffed with spinach and feta and served with a tomato pan-sauce, this easy meal is tender, flavorful and sure to become a family favorite.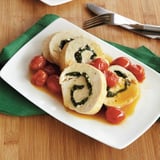 Ingredients
1 tablespoon butter
1 garlic clove, minced
6 cups fresh baby spinach leaves
1⁄8 teaspoon salt
1⁄8 teaspoon freshly ground black pepper
4 skinless, boneless chicken breast halves
2 ounces feta cheese, crumbled
2 cups grape tomatoes
1⁄4 cup dry white wine
2 tablespoons grated parmesan cheese
Directions
Preheat oven to 425°.
Melt butter in a large cast-iron skillet over medium heat. add garlic; sauté 30 seconds. Gradually add spinach to pan, turning with tongs. sprinkle with salt and pepper; cook, stirring frequently, 2 minutes or until spinach wilts. remove from pan; cool.
Place chicken between 2 sheets of plastic wrap; pound to 1⁄2-inch thickness using a meat mallet or small heavy skillet.
Crumble one-fourth of feta cheese over each chicken breast half; top with spinach mixture. roll up, jelly-roll fashion. Tuck in sides; secure each roll with wooden picks. Place chicken in skillet. Cook over medium-high heat 3 minutes. Turn chicken over; cook 2 minutes or until browned. add tomatoes to skillet; sprinkle chicken with Parmesan cheese. Transfer skillet to oven.
Bake at 425° for 25 minutes or until chicken is done and tomatoes begin to burst. Transfer chicken and tomatoes to a serving platter. add wine to skillet, scraping pan to loosen browned bits. Remove wooden picks from chicken; cut into slices. Serve with tomatoes and pan juices.
Serves 4
Amanda Haas is a cookbook author, cooking video host, and the founder of One Family One Meal, a website that helps families menu plan, grocery shop, and cook on a budget. Her cookbook, Real Family Food, features this and other delicious family-friendly recipes, as well as simple tips for bringing your family together around the table and a strategy for meal planning, budgeting, and shopping.
Information
Category

Poultry, Main Dishes

Cuisine

North American