Spray Paint Craft For Kids
Spray My Name! A Fun Painting Craft For Toddlers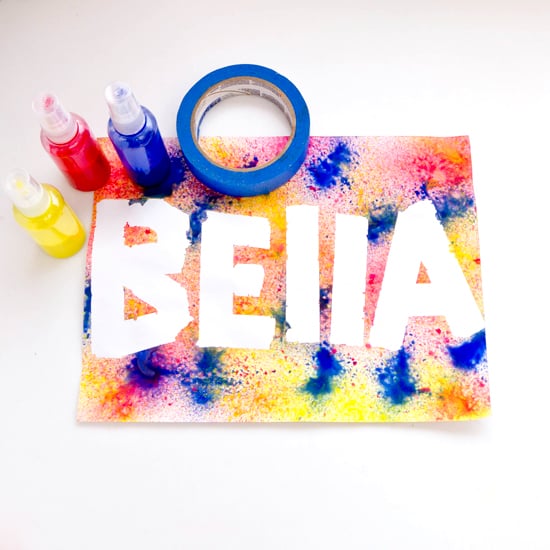 Get out the spray bottles: this craft will have your tot spritzing away! Along with making something really colorful, this activity will get all those little hand muscles moving, perfect for building fine motor skills. Learning how to spell your name is a big toddler accomplishment, making this activity perfect for encouraging letter writing like a pro.
Your child will also explore color theory, seeing what happens when the primary colors (red, yellow, and blue) mix together! Do this project outdoors, which makes cleanup as easy as a hose down. Click here for the directions!
What You'll Need:
White drawing paper
Red, yellow, and blue tempera paint
3 small spray bottles
Masking tape
Pencil
Directions:
Help your tot write her name on the paper in big letters with ample space around them. Offer your child the masking tape and invite her to tear strips of the tape and then press over the pencil lines, creating big block letters.
Squeeze about a teaspoon of red paint into one spray bottle and then add one fourth cup of water. Screw on the cap and give a shake to mix the paint. Do the same with the yellow and blue paint and remaining spray bottles.
Take the paper and paint spray bottles outside and find a spot to get messy. Working on a grassy area or a driveway works really well. If you're indoors, place the paper in a nine-by-13-inch baking pan, which cuts back on the stray spray.
Offer your child the spray bottles and invite her to spritz her paper, taking a turn with each color. Watch as the colors blend and mix into other colors!
Once she's finished spraying, let the creation dry for at least two hours before carefully peeling away the tape. Encourage your tot to work slowly, which keeps the paper from tearing. She'll love seeing her name pop out from the painted paper!