Spring Roll Sushi Recipe
Super Snack: Spring Roll Sushi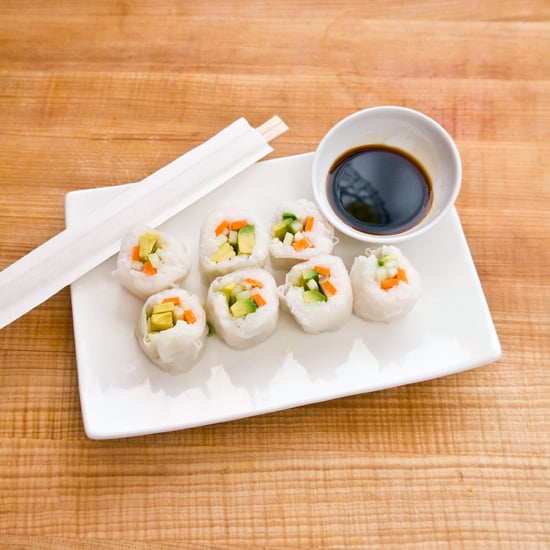 If your lil one is a big fan of sushi, then this snack is perfect for you! Spring roll wrappers keep everything in place and are much easier to work with than you would think. We've loaded our rolls with healthy doses of fresh avocado, carrot, and cucumber, but you can add whatever you like. Better yet, invite the kids into the kitchen to tailor their rolls to their individual tastes. Add dipping sauce and some chopsticks, and you're ready for an awesome snack!
Keep reading for this simple snack recipe.
Spring Roll Sushi
From Sarah Lipoff, LilSugar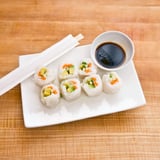 Ingredients
1/4 cup cold sticky rice
1 spring roll wrapper
Water
1/4 an avocado sliced thin
1/4 a carrot sliced thin
1/4 cup thinly sliced cucumber
Soy sauce
Directions
Start by filling the bottom of a dinner plate with water. Place the spring roll wrapper into the water and gently press, making sure the entire round is submerged. Invite your child to be in charge of making sure it doesn't curl up. If it does, then your little one can press it back in place. Let the wrapper soften in the water for at least a minute.
Gather the rest of the ingredients, slicing thin the cucumber, carrot, and avocado so it's ready to go. You'll need about 1/4 cup of sticky rice to make one roll. If you don't have any leftover sticky rice in the fridge, then you can make some the day before and keep cold in the fridge until you're ready to make the sushi.
Remove the spring roll wrapper from the water and place on a dry cutting board, uncurling any edges to form a circle. Invite your child to wet her hands and then gently press the sticky rice into a rectangle along one half of the circle. Now she can layer on the cucumber, carrot, and avocado.

Start rolling the sushi at the edge closest to the rice while tucking the edges just like you are making a burrito. Continue rolling and tucking the edges while keeping things nice and tight until reaching the other end the spring roll wrapper.
Carefully slice the spring roll sushi into bite-sized pieces, and serve with dipping sauce.

Makes one spring roll sushi roll.
Information
Category

Snacks

Cuisine

North American