Stay-at-Home Mom's Salary
The (Monetary) Worth of a Stay-at-Home Mom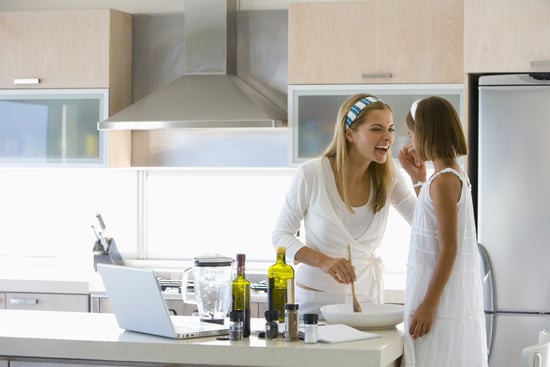 Being a stay-at-home mom is an anomaly of a lifestyle. It's one of the only "jobs" around where it's absolutely mandatory to be on call 24/7, 365 days a year. And it's also the only job that's this demanding, yet comes without a salary. Needless to say, we were intrigued to discover Investopedia's "How Much Is a Homemaker Worth?" Check out their calculations below, and tell us whether you think this is an accurate accounting . . . or way off.
The Value of a Stay-at-Home Mom:
Private Chef
The American Personal Chef Association reports that its personal chefs make $200 to $500 a day. Grocery shopping is another chore that needs to be factored in, as grocery delivery services generally come with a $5-10 fee.
Total cost for services: $1,005 per five-day work week x 52 weeks = $52,260 per year
Housekeeping
From vacuuming, dusting, sweeping, and scrubbing, to dealing with dirty dishes and making beds, unless she has regular help, household chores are also the responsibility of a stay-at-home mom.
Total cost for services: $118 per week x 52 weeks = $6,136 per year
Child Care
The International Nanny Association's 2011 survey reported that nannies on average take home between $600-950 per week (and that often includes perks like health insurance, paid vacation and sick days, and federal holidays off — not so much for supermom).
Total cost for services: $600 per week plus perks/benefits x 52 weeks = $31,200 per year
Driver
Employing a private car service may seem like a luxury to most, but getting the gang where they need to be, on time, is all in a day's work for a stay-at-home mom. An elite membership with a service like Red Cap, which provides drivers for the client's own car(s), runs about $1,000, plus between 33 cents and $2 per minute.
Total cost for services: $1,000 per year (plus estimating 8,000 miles driven/50 miles per hour at 33 cents per minute) = $4,168 year
Laundry Service
Professional laundry services charge by the pound. Texas-based Susie's Suds Home Laundry Service said that they charge between 90 cents and $1 per pound to wash, dry, fold, hand, and steam your clothes. Items that take longer to dry (comforters, blankets, rugs, winter coats, etc.) are assessed at $12-15 each.
Total cost for services: 90 cents per pound x 4 pounds of clothes per day x 5 days per week x 52 weeks = $936 per year
Lawn Maintenance
While this category probably doesn't apply to city moms, or those who employ a gardening service (or have a lawnmower-friendly husband), there are plenty who do handle outdoor landscaping. Assuming that these services cost about $30 per week . . .
Total cost for services: $30 per week x 52 weeks = $1,560 per year
And the grand total is . . . $96,261