Stop Bullying Now Hangout
Join POPSUGAR Moms to Put an End to Bullying
In our digital era, bullying has taken on an entirely new level of seriousness, and teen suicides are (tragically) more common than ever. As parents, the best thing that we can do for our kids is to be prepared, be receptive, and be ready to tackle whatever challenges come their way.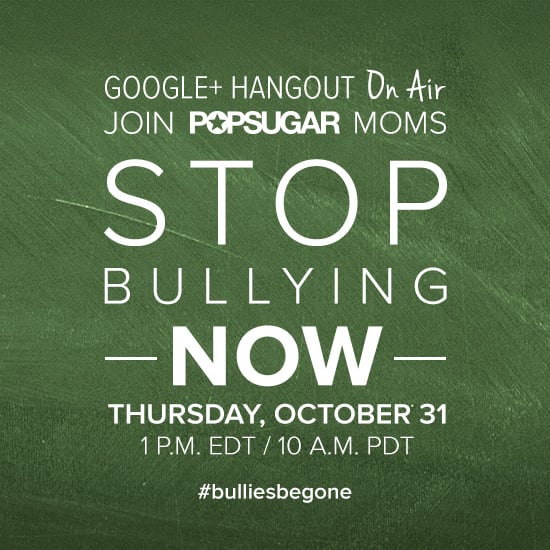 October is National Bullying Prevention Month, a time designated to raise awareness of bullying's devastating effects on both its victims and their families (would you believe that 43 percent of all kids have been the victims of bullying?). Kids who are bullied are more likely to experience both mental and physical health issues, including depression and anxiety, and see a decrease in academic achievement. Families are often left feeling helpless, but in fact, parents play a key role in preventing and responding to these attacks.
That's why the topic of our next Google Hangout is how to create a Parent Toolkit for talking about bullying with our kids. Moms and dads need to be armed with the tools to effectively and intelligently broach the subject in a way that ensures our children feel supported and know what to do should they feel threatened. Join POPSUGAR Moms for the third and final in a series of Hangouts On Air on Thursday, Oct. 31, at 1 p.m. EDT/10 a.m. PDT. We'll be sitting down with Dr. Dave Walsh of Mind Positive Parenting, Gene Roehlkepartain of Parent Further, Robert McGarry, who's in charge of education and youth programming at GLSEN, and The Trevor Project's Senior Education Manager Nathan Belyeu to arm ourselves with the tools we need to talk bullying with our kids.
Join the conversation by using #bulliesbegone on Facebook, Google+, and Twitter. Visit the Stop Bullying Now event page to leave any questions you have for our panel of experts, or join us this Thursday for a live Q&A during the panel discussion. And grab and share our badge to pledge your support to stop bullying now.