Subscription Clothing Company For Little Girls
FabKids Joins the Subscription Trend With Personalized Picks For Girls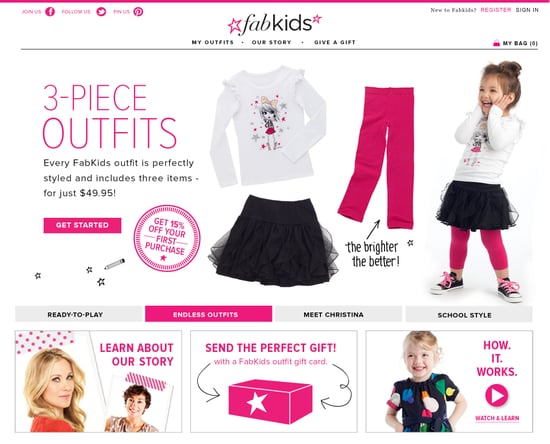 Our delivery guys are working overtime these days thanks to all the fun subscription services out there. We simply can't get enough of the craft boxes and toy deliveries that come our way each month — and now we have a new one to look forward to.
FabKids, which launches today, is a new girls clothing company and the first personalized clothing club for kids, bringing tots a new three-piece outfit each month. The brainchild of two very talented parents — Christina Applegate, mom to 1-year-old Sadie and star of one of our favorite shows, Up All Night, and Andy Moss, a dad of two and the founder of ShopStyle, our sister company — FabKids is designed to help busy parents and particular kids pick out clothes that express their individuality.
Once joining, parents and kids sit down and create a style profile based on 15 visual questions (such as their favorite kind of dress, their favorite animal, etc.). Using their selections, FabKids suggests a new outfit each month — always priced at $49.95 for the three pieces (with free shipping and returns). Parents can then decide if they want to purchase the "FabKids Pick" outfit, mix and match the pieces to create a new outfit, or skip the month altogether and not be charged.


Just in time for back-to-school, the FabKids's head designer, Denise Kalinowski — who's designing credits include senior positions at BabyStyle, Old Navy, and Lands' End Kids — has created over 120 outfit ideas for girls sized 2T through 8, ranging from a graphic t-shirt paired with a ruffled skirt and hot-pink leggings to a modern polka-dot dress, tights, and a matching headband. The playdate-approved pieces are perfect for everything from the first day of school to a romp through the park. As the mom of two boys, I'll have to wait until next Summer to subscribe (when the company expands to boys), but for now, I'll just envy the moms of girls who can get in on the adorable (and age-appropriate) styles today! Head on over to the new site today and get 15 percent off your first month!
[Full disclosure: our founders, Lisa and Brian Sugar, are investors in FabKids, and Brian sits on their board.]