Sweet Father's Day Gifts
Sweet Father's Day Gifts That Dads Love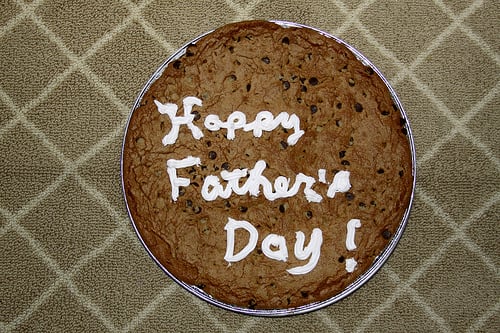 Father's Day is coming soon, and you aren't alone if you're still seeking ideas for what to do on Dad's special day.
"Father's day is just around the corner, and it's my fiancé's first," Nicole S. shares with Circle of Moms members. "What's a creative but inexpensive gift I can buy or make for him that could be something from our son? I want to give him something he'll treasure, something that will make his first Father's Day very special! Any suggestions would be great!"
For suggestions on what to do for Father's Day, Circle of Moms members offer the following three tips.
1. A Picture Is Worth a Thousand Words
When you want the man in your life to celebrate being a dad, then there's no better reminder than a picture of the children he fathered. Photo books are popular among Circle of Moms members. "You can sign up to loads of sites for free where you can have them made," Angie M. says. "I did mine on Photo Box, and I think it's turned out lovely!"
Erin O. also is making a photo/memoir book. She suggests incorporating things he loved when he was a kid into the pages of a book, then remaking it "scrapbook style, with pictures from you and him and baby."
If you don't have the time or money to make a full book, then one framed photo can still be a simple and stylish reminder of the family. "I am getting a picture of my husband and the boys framed so he can keep his on his desk," Stacey M. offers.  
Erin said last year her sister took her twin boys to JCPenney for a special photo day, in which they wore jeans, white tank tops, and little Harley Davidson removable tattoos. "They were so cute!" she says.
2. Create a Work of Art
Handmade gifts are always treasured, Circle of Moms members say. That's why several community members suggest having your child create a work of art.
Amber E., for instance, says for her family's first Father's Day, she bought poster board, finger paints, and sponge letters, then helped her 5-month-old daughter stamp out the words "Happy Father's Day" and make handprints and footprints. "Then I let her go to town smearing paint all over the rest of the paper. She had a blast, and the finger paints (Crayola washable) cleaned up easily. We hung it on the door so her daddy would see it when he came home. My husband liked it so much that he had it framed and hung it in our room."
Heidi D.'s gift was not so large but was just as memorable. For the first Father's Day, she made a stepping stone for each of her sons with their footprints in it and noted the date and year. Then a couple of years later, she had each of the boys make one with each of their handprints and I wrote around it "World's Greatest Dad." Now the stones are a set. "I think they cherish that much more then a bought gift," she says. 
Jill P. suggests making cards or heading to the arts and crafts aisle at Walmart to see what strikes your fancy. The store has projects where you can preserve handprints or make things like pictures in a collage-like frame of your children, she says.
Theresa J. says when her son was 5, he made Dad a coaster out of Kleenex. "He came up with the idea all on his own and told Dad why he made it — because Dad was always taking pop into his room while he changed after work, so [he] thought he could use a coaster." She notes her husband still has it on his nightstand, and her son will be 14 years old in March!  
Tanya B. also had her girls create their gift. They made "coupon books" that could be redeemed for things like "one kiss," she explains. For their 7-month-old, she also made a book as a joke, putting coupons like "I will never talk back," "I will always think Daddy is the best," and "Daddy will be the only boy I kiss" in it. "It was funny and cute," she says, noting the same idea could be applied to a son, such as "I will never wreck your car," or "I will always be willing to help you do yardwork." 
3. Spend Quality Time Together
Many parenting experts will tell you there's nothing better for you and your child than to spend time with them. So, for Father's Day, give Dad a "yes" day with the kids, suggests Cheryl H. "Moms and dads are constantly disciplining their kids and following a schedule or structured routine. [For Father's Day], let Dad take the kids and just enjoy them. They want ice cream for breakfast? Yes! They want to play in the mud? Yes! They don't want to brush their hair? Yes! They want to stay in their jammies and watch movies all day? Yes!" she explains.  
Even if you don't want your children to become "yes-men," then Kathleen says you still can spend quality time with Dad on Father's Day, like going out for a hike or community bike ride, and coming back to BBQ.
The way to a man's heart frequently is through his stomach, Diana B. agrees. So she suggests taking Dad out for some wings or his favorite food or making him breakfast in bed. "Food is the way to a man's heart," she says, also noting you can combine food with an activity. "You can pack a picnic and go to the park. Play soccer or Frisbee. If he likes golf, take him to the range to swing a few balls. Or if he enjoys fishing, take him on a fishing trip," she says.  
Megan E. also suggests making breakfast or going for a picnic in the park. But, she also suggests making room for "couple time." Take kids to visit [grand]parents," she suggests. "Leave kids there for couple hours . . . take hubby home, order a movie . . . and let him know how much you appreciate him . . . then pick up the kids," she says.  
Brandi W. suggests other activities, such as going to the movies or a baseball game, although she admits for the first Father's Day, she just made the day special by making him breakfast and spending the day together as a family. What you do "kind of depends on what he is into," she says.  
Whatever you choose to do for Father's Day, remember that it's not about the gift, or how much it cost, Circle of Moms members say. "Many times we have had no extra money, so my kids and I would do things like make Dad's favorite meal/dessert/treat, give him time for himself, go for hikes/walks/bike rides, play games, make things for him from stuff around the house, give him homemade gift certificates made up of things that you and the kids can do . . . mow the lawn, make his favorite treat, wash the car, and many other things that you can think of," Cindy W. says. Whatever activity you choose, just remember that the day will be most memorable if you make it "a very personal gift," she concludes.