Table Designs From the Novogratz Family of SIXX Design 2010-11-02 06:00:50
Setting the Table With the Novogratz Family of SIXX Design
No one knows how to keep a home more kid-friendly and high on design than Bob and Cortney Novogratz! This month the stylish couple will be creating two adult tablescapes exclusively for CasaSugar and they enlisted their seven children — Wolfgang (Wolfie), 13, Tallulah and Bellamy, 12, Breaker, 9, Five and Holleder (Holly), 5, and Major, 20 months old — to inspire two children's tables for us! Their first colorful design is below so pull up a high chair, grab a BPA-free plastic tumbler, and translate The Novogratz family's ideas into your own holiday table!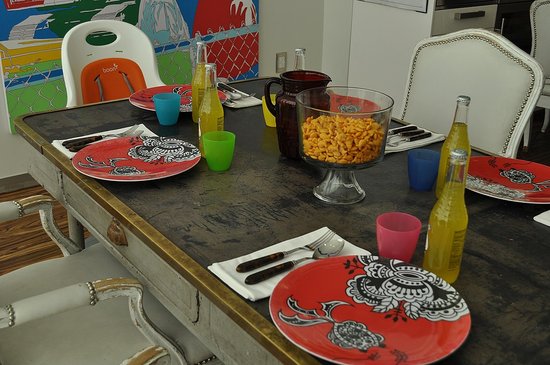 LilSugar: What was your inspiration?
The Novogratz Family: Kids love a colorful table. Fun and funny, too. It makes eating more entertaining for them, and for us.
LS: Why did you select these specific products?
The Novogratz Family: Everything is impossible to break! That is always the most important thing with the kids' table! And we try to have an element that will capture their interest, like plates with pictures of fish on them.
LS: What is your favorite thing you added to your table?
The Novogratz Family: The glass vase filled with goldfish. Keeping the theme going!
LS: What about this table makes kids want to sit still during dinner?
The Novogratz Family: We went for fruit soda in a cool color. It was something new we discovered, so with all the elements that will capture their attention, they are bound to sit still for a longer period of time! Which is nice for all of us.
Remember to check back next week for the second of the Novogratz's holiday kids' tables (and Casa for the adult designs!). At the end of month, we will round up both tot tablescapes (plus some of our very own inspirations!) for a chance to win $1,000 to HomeGoods!