Talking to Kids About Sex Offenders
Why I Had to Talk to My Kids About Sex Offenders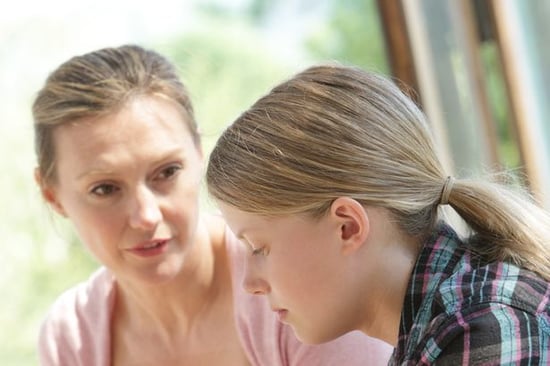 I have always been fairly frank with my kids. I started the difficult conversations about things like sex, sexuality, drugs, and peer pressure when they were very young. As they grew older, the conversations evolved and I felt confident that they were comfortable talking to me. So, I patted myself on the back, thinking I'd done my job well.
Last year, though, I was blindsided when someone in my family was sentenced on charges of possession of sexually explicit material. This was a difficult conversation I never thought to have with my kids — a conversation about child pornography and sexual predators.
Keep reading.
"Stranger Danger" Isn't Always From a Stranger
Sure, I taught my kids about "stranger danger" and I'd read stories about kids being charged with possession of sexually explicit materials as a result of sexting, but this was different. This was personal.
I had to explain to my two older kids why they wouldn't be having any more contact with their relative, and (thankfully) confirmed they hadn't been victimized in any way.
This was a conversation about someone they knew, loved, and trusted, which, as Circle of Moms member Barb S. points out, is the scary thing about this type of situation. Though her circumstance was a little different, she's right when she says, "He's not the creepy stranger danger that everyone fears will hurt their child."
Talking About the Circle of Trust
When you consider that the National Child Traumatic Stress Network reports that in three quarters of reported cases of sexual abuse involving a child, the perpetrator is a family member or someone in that child's "circle of trust," I can't imagine why I hadn't had this conversation with my kids sooner.
So, I sat down with my teenager and told her what was going on. I asked her flat out whether or not she'd been exposed to any inappropriate imagery or touched in an inappropriate way. I talked to my younger child about what child pornography is and how it exploits children. We talked about things we should have talked about a long time ago.
Why Didn't I Have the Tough Conversation Sooner?
Why hadn't I had this conversation before? To be honest, I was one of the people a member named Roberta refers to when she says, "You'd be surprised at how many people live with their head in the sand, always thinking it will never happen in 'their' family."
I didn't think my kids would ever come in contact with a sexual offender, despite knowing the odds. I was a better mother than that. I was naive. I was arrogant. I was wrong.
It was a very difficult conversation, but it was also a real eye-opener to me that these things can happen to anyone and kids need to know about this stuff so they feel comfortable talking to their parents.
Continuing the Conversation
It's been over a year now, and we've continued to have an ongoing dialogue about the issue. I've learned that my daughter has friends who were not so lucky to have their parents talk to them about sex offenders in their "circle of trust."
Not everybody in my family agrees with my decision to talk to my kids openly about this, but I'm glad I did. As Barb says, "This should never be kept a dirty little secret."