Tape to Eliminate Scratchy Kids Clothing
Undercover Tape: Kid-Friendly or Are You Kidding?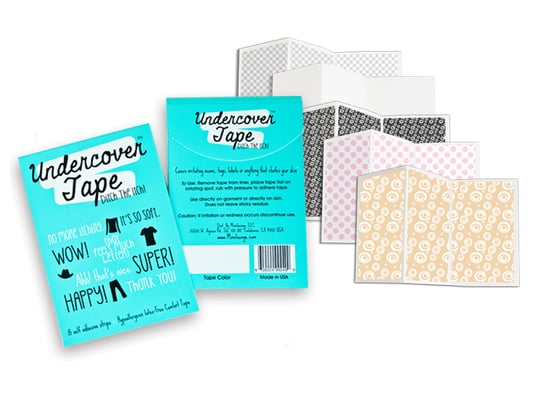 Since my 1-year-old daughter is, number one, obsessed with any and all clothing (lately, when she's fussy, I just take her to her closet and show her all of her dresses. Works every time, and yes, I'm already terrified of her teenage years) and, number two, can't really talk, I don't have to worry about scratchy clothes. But my mom friends warn me that soon a single irritating tab, seam, or sequin will mean lifetime clothing banishment. It's a kid reality that moms Michele Naftal and Michelle Isrow knew well, and they were on a quest to find the answer to bring hundreds of dollars of unworn clothing back into regular rotation.
The result: Undercover Tape ($12 for 15 one-by-three-inch adhesive strips). The clothlike, hypoallergenic tape — with a tagline "Ditch the Itch" — essentially acts as a bandage for clothing, smoothing out any scratchy bits. The tape, which comes in five colors and prints, works on all types of clothing including sports jerseys, costumes, socks, hats, and underwear and will even last for up to eight cycles through the washer and dryer.
So what do you think? Is Undercover Tape the answer to your kids' wardrobe woes? Or will you be sticking to the scissors? Weigh in below.