Teddy Needs a Bath Review
Teddy Needs a Bath: Kid-Friendly or Are You Kidding?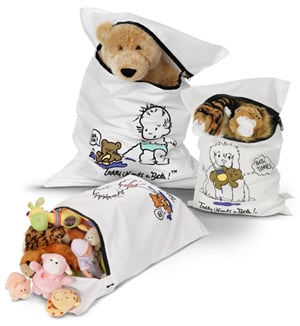 When there's a foul odor coming from my kids' bedrooms, the first place I look is the pile of stuffed animals that sits near their beds. While some parents consider stuffed animals to be little more than dust collectors, in our home, they are a necessity, helping soothe my kids to sleep each night. But cleaning them has always been an issue — I fear the day one of their loveys is destroyed in the washing machine and we have to suffer through nights of inconsolable children.
That's why my interest was piqued when I heard about Teddy Needs a Bath ($15). Basically just an oversize, eco-friendly laundry bag with a serious zipper on it, Teddy Needs a Bath keeps stuffed animals safe during routine washings, ensuring that they can be returned to their rightful owner looking the same way they did earlier — only cleaner and germ-free! What do you think?