Teen Hangout Room Decor
YOLO: A Space Worthy of a Teenage Dream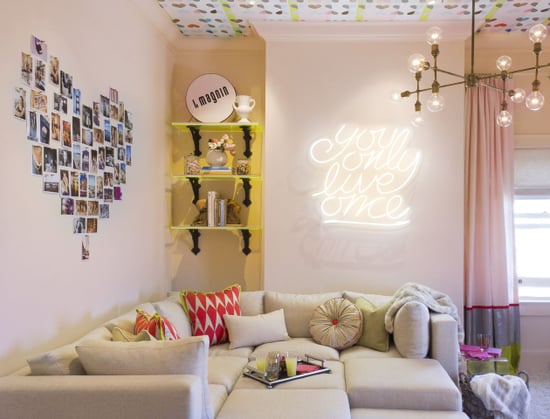 As a mother of two, Emily Mughannam of EM Design Interiors can create a playroom with both hands tied behind her back. So when she returned to the design world after maternity leave, she wanted to challenge herself with a teen-only hangout room. The pressure was put on Emily to please her client, a chic, fashion-forward 16-year-old.
"It was my comeback after taking a few years off to be with my babies," Emily said. "I really wanted to do something fun and playful. My inspiration was the vibrancy of Christian Siriano's Summer 2012 collection. I saw the collection online and was blown away by the color combos."
Using Siriano's color choice as well an assortment of fun furniture and accessories, Emily designed a dream space for any teenage girl.
Bold and Bright
Color was Emily's first concern when designing the room. "I wanted it to be luxurious yet youthful, and fun for a girl to gather with her friends," she said. With a palette of neon greens, reds, and pinks, Emily brought something "funky and unexpected" to the room.
Colorful Ceiling
Rather than coat the walls with color, Emily chose to bring bright hues to the ceiling. "I knew there would be a lot of color pops in the room, so I figured having something on the ceiling would be a fun surprise." The pattern was originally a custom creation by Timothy Sue, but has since been integrated into the permanent collection called Hearts Apart.
Fun Shapes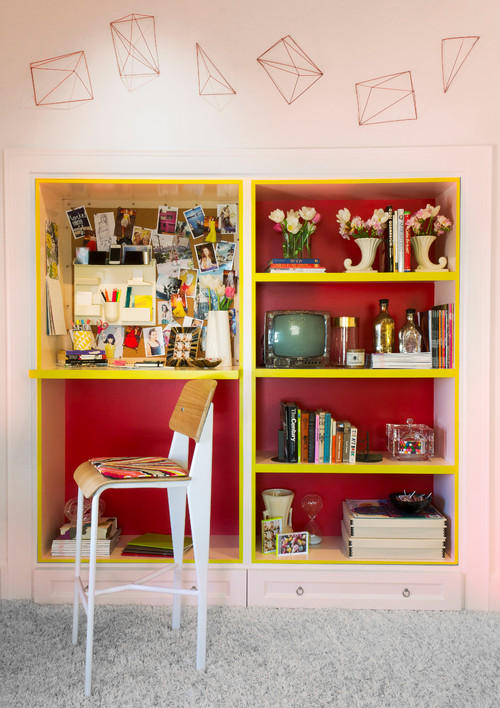 Patterns also played an important part in the teen lounge. "I love textiles, so I wanted the pillows to be really fun, bright, and graphic with geometric shapes." Emily also brought graphics to the wall with these 3D decals.
Keep reading for more fab images of the room!
Comfy Couch
It was important for Emily's room to have a huge sofa both for comfort and design. "I really wanted to have that be the main piece of furniture," she said. "It would utilize maximum lounging and pull your eye to the walls."
Picture Perfect
To make her photos pop, Emily skipped the traditional picture frames and cork boards. "I had the images printed to look like old Polaroids and pinned them directly to the wall in the shape of a heart. It was a simple yet super impactful piece of art."
YOLO Light
Emily worked with Peterson Neon to create the slang-inspired sign. Though this was a custom design for Emily, several companies sell slang-inspired decals.
Candy Cart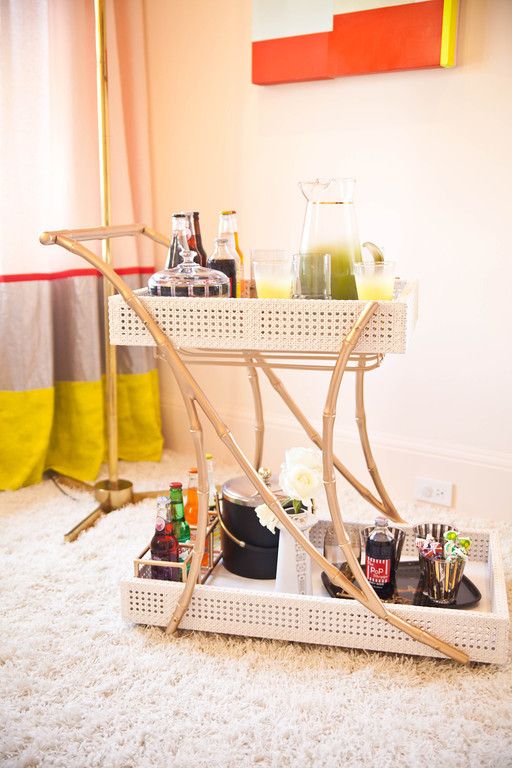 "I thought it would be fun in use an adult piece of furniture, but style it with soda and candy." The bar cart from Society Social is a chic way to serve your teen treats. You could also use it to display photos or books.