Teen Mom: Is MTV's Reality Show Birth Control or Entertainment?
Teen Mom: Is MTV's Show Birth Control or Entertainment?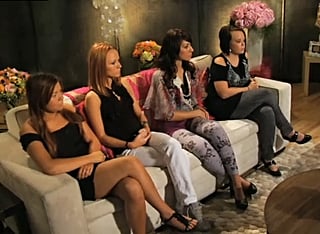 Being a teen mom doesn't end once a girl births her adorable bundle of joy. Season two of MTV's Teen Mom comes to a close next week when the four young mothers — Amber, Catelynn, Farrah, and Maci sit down with Dr. Drew. The women are a long way from where they were when 16 and Pregnant began filming.
The series documents the realities of becoming an underage parent and the emotional, familial, and financial toll it takes. A recent article debated whether viewers see the show as a form of birth control or entertainment. In the report, Bill Albert, spokesman for the National Campaign to Prevent Teen and Unplanned Pregnancy said:

MTV is in the entertainment business and [we] are in the teen pregnancy prevention business. Our two worlds have happily and effectively collided to minimize the number of teen pregnancies.
What is your opinion?