Teen Sleepovers a Bad Idea
Why We Don't Do Sleepovers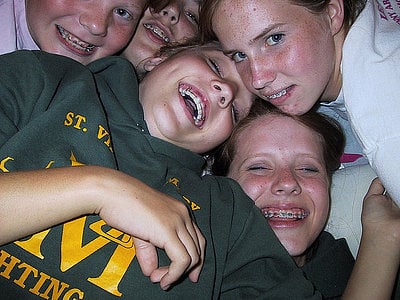 Tween and teen slumber parties are a hot topic in Circle of Moms communities. Here, moms share three reasons for keeping the tween and teen set at home at night.
1. Drinking and Drugs
When it comes to sleepovers, Lori is one of many moms who feel there are just too many unknowns, including the possibility that your kids will be unsupervised and tempted to make bad or risky choices. She works in a hospital, where she's seen many parents lose kids to accidents. She says, simply, "You don't know what goes on in other people's houses. . . . You just don't know what other parents will allow them to do."
As if to bring this point home, Paula M. relays the story of a Sweet 16 sleepover her daughter attended where four girls got sick after smoking pot and drinking in the host's bedroom.
2. Teen Sex
Several members are adamantly opposed to sleepovers because they can wind up being coed, a trend moms say is on the rise.
Veronique P. is guided by memories of her own hormonal adolescence: "I remember those years very clearly, [so] I never would I let a boy sleep over at my house, nor would I let my daughter go to a sleepover where there will be boys. Not a good idea. I have no intentions of being a very young grandmother and having to support that child and my daughter."
Katie agrees. "You have to be careful at that age and especially with girls."
3. Dangerous Strangers
A member named MeMe feels bound to protect her kids from dangers she's read about in newspaper headlines and seen on the news. "While many parents may believe slumber parties are harmless fun, several news stories about molestation at a sleepover have given many of us parents reasons to worry about slumber parties and concrete reasons to avoid them," she says. 
Lisa J. agrees, asserting that, "Even if we know [the parents] somewhat there could be a 'compromising visitor' that drops by. They could have a porn movie going. There could be drinking, whatever. It's not that I don't trust my children — I don't trust every person there."
And Kelina, like Veronique, thinks back to the risks she took during her own teen years. "I'm so freaking amazed that nothing happened to me," she says. "In all likelihood most kids who have sleepovers have great experiences, and are never in harms way. But that one-in-a-million chance is the one that curdles my blood, because nothing could ever take that back."