Teens Face School Stress
School Takes a Mental and Physical Toll on Teens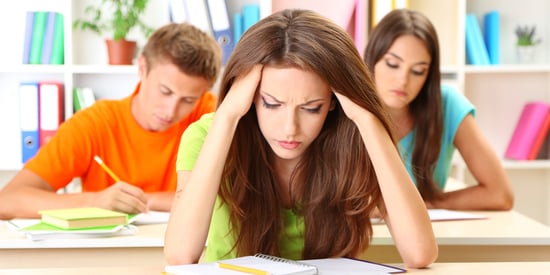 Between college-level classes, extracurricular activities, and complicated social lives, teens today deal with more stress than ever before. In a National Public Radio survey, 40 percent of parents said their teen suffers from school-related stress. It isn't just the parents who feel this way. Almost 45 percent of high school students said school-related issues — specifically homework — causes them stress.
Read more about teens' stress.
While some may see this concern as coddling children, Mary Alvord, a clinical psychologist and public education coordinator for the American Psychological Association, believes parents have a good reason to worry.
"A little stress is a good thing," says Alvord. "It can motivate students to be organized. But too much stress can backfire." Chronic stress, which many teens seem to suffer from, can cause an array of ailments including anxiety, insomnia, muscle pain, and a weakened immune system.
No parent wants to see their child suffer, so how can they help? Alvord says simple time management can control and reduce a child's stress. It is also important for parents to help their children prioritize. If your child wants to study business in college, does she really need to take AP Chemistry 2? Decide what classes and activities will be beneficial to your child's overall future, and edit their schedules from there.