Test Your Fever Knowledge
Doctors Recommend Riding Out a Fever; Test Your Knowledge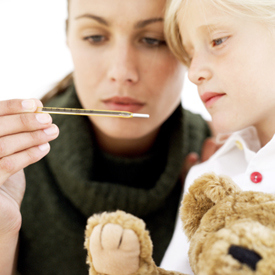 Leaving a high fever untreated may sound crazy to both new and seasoned moms, but it may become standard practice. According to a new report in the journal Pediatrics, there is no reason to use medication to alleviate a fever in an otherwise healthy child. The report concludes that for children over 3-months-old, medicating may actually lengthen the course of the illness, rather than shorten it, because the drugs confuse the body into thinking that the illness is gone.
Before tossing your acetaminophen and ibuprofen take this quiz to see how much you know about fevers.
Doctors Recommend Riding Out a Fever; Test Your Knowledge
At what temperature is a newborn's fever considered serious enough to call the doctor?