Time Magazine Breastfeeding Cover
Does This Week's TIME Cover Glorify Attachment Parenting?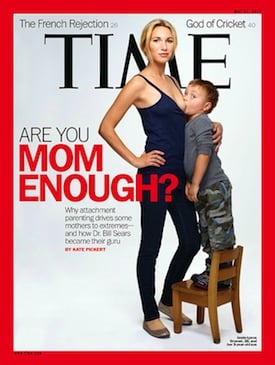 This week's Time cover story, which hits newsstands tomorrow, takes a closer look at the practice of attachment parenting, discussing Dr. Sears's
The Baby Book, and profiling four mothers from across the country who embrace the philosophy — all for different reasons.
The magazine's cover image of LA mom Jamie Lynne Grumet breastfeeding her 3-year-old son (paired with the tagline, "Are You Mom Enough?") has stirred up a fair amount of controversy amongst moms, who have yet to read the story. "When you think of breastfeeding, you think of mothers holding their children, which was impossible with some of these older kids," said photographer Martin Schoeller. "I liked the idea of having the kids standing up to underline the point that this was an uncommon situation."
What's your reaction to the cover as a whole? Does it glorify attachment parenting, make moms feel judged, or offer an accurate portrayal of the practice in action?