Tips For Efficient Breast Pumping
Expert's Pumping Tips For Efficient Milk Expression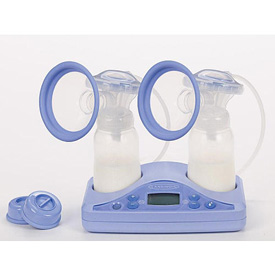 Lots of moms are fond of nursing, but it's hard to find a woman who loves to pump. We asked Gina Ciagne, a certified lactation counselor and director of breastfeeding and consumer relations at Lansinoh Laboratories for advice on cutting down a mother's pump time.
Change the settings throughout the day. Baby's feed differently throughout the day and the breast adjusts to the lil one's demand. A pump with adjustable settings, like the Affinity ($160), allows mama to mimic the tot's nursing rhythms.
Massage the breast. "Loosening up beforehand, and during pumping, can help guide the milk down a little bit. "When nursing, mom may feel the baby put her hand on the breast, almost feel like pinching. The baby is sending sensory signals to mom's breast to let the milk down. An extra little massage may help with stimulation."
Double pump. It may sound obvious, but double pumping allows mama to capture every last drop of milk that her body lets down.
Warm it up. A baby's mouth is warm – 98.6 degrees to be exact – so warming up the flanges will help speed up the let down process.
Keep spare parts. A spare set of parts at work (or wherever you plan to do your pumping) will alleviate stress and worry when some pieces are inevitably left at home.