Tips For Preparing Your Tween For Middle School
5 Ways to Make Middle School Easier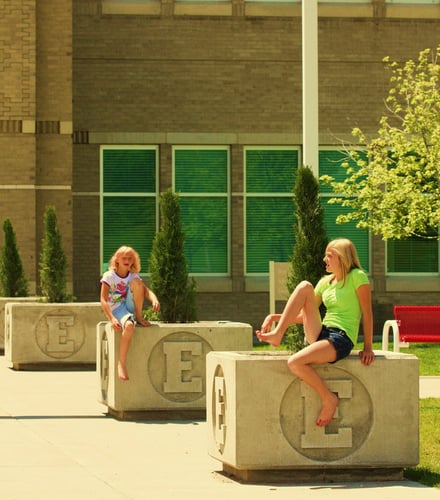 It may be the end of the school year, but if your tween is transitioning to middle school next year, then now is the time to start helping her get ready. Not only is she looking at going to a new building, but the structure of the day and friendships are bound to change too.
So what can you do to make that transition a little easier? Here are five tips to start preparing your tween for the changes ahead.
1. Explore the School
Your child is used to being the biggest fish in a little pond (elementary school) and is jumping into bigger and unknown waters. To extend the metaphor, if your tween was really going swimming somewhere new, then you'd help her learn about the area, the currents, and the temperature of the water to take away the mystery.
Preparing for middle school is the same. Take a tour with your child to see the layout of the school. Or, if your child is very nervous, mom Sarah M. suggests going to the school as often as possible. If you're not able to do that, then check to see if your school district has an online website to take a virtual tour or whether there is an open house before school begins.
2. Talk About New School Rules
If your middle school starts in sixth grade, then your 11-year-old could be in the same school as kids as old as 15, which means there will be some new rules that pertain specifically to the situations that come up with tweens and teens. For instance, some of the rules moms talk about include those regarding hair color and appropriate dress.
Ask for or download a copy of the school handbook, and read it with your child to talk about the reasons for rules that deal with more complex issues, like dress codes, cell phones, and computer usage.
3. Ask Your Child About Her Worries
Don't forget to check in with your tween about her fears. You might be surprised to find that she's more worried about remembering which one is the right locker than whether or not any of her friends have lunch at the same time as her. As Circle of Moms member Linda P. advises, "Keep the lines of communication open and let [them] know you are there, even if it's about dumb stuff at first."
4. Find Ways to Ease Social Situations
The tween years are very difficult to navigate socially, and if your child's middle school draws students from a number of elementary schools, then your child will be with a bunch of new kids. Making friends can be tough, but keeping old ones can be tough too.
Encourage your child to maintain strong friendships over the Summer. Also, many moms suggest talking about what types of extracurricular activities your son or daughter can join in the Fall to meet kids with similar interests.
More importantly, mom Mindy J. says to remind your tween to be herself. She says it took a while, but her daughter realized that was the best way to find people she liked hanging out with.
5. Boost Your Child's Independence and Organizational Skills
In middle school, the dynamics of academics change a little bit. One Circle of Moms member, Lydia D., is also a middle school teacher who says she sees "the seemingly insurmountable task of working through all the assignments" as a big thing that kids need to be prepared for. All of this requires more independence and organization on your tween's part.
Try preparing her for the upcoming change by giving and asking for a little more independence over the Summer. This can be done as simply as having a list of things that need to be accomplished over the Summer, helping your child come up with a plan of how to get it all done, and then stepping back to let her do it.