Tips For Spending Evening Time With Your Kids
Busy-Mom Tips on Bonding With Kids in the Evening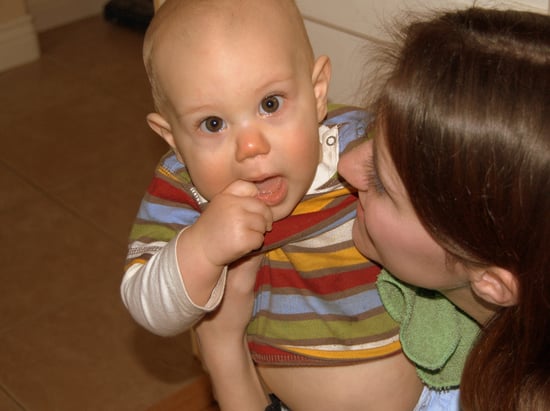 Whether you've spent a long day at the office or a long day on the home front, it's easy to feel overwhelmed in the evening by the endless battery of things vying for your time — time you'd really like to spend bonding with your kids.
The minute Circle of Moms member Jamie C. walks in the door at 5:30 every weeknight, the mom-of-three feels like the clock is ticking and she has to race through her night in order to spend time with the kids. "When I start supper and am tackling the dishes is usually where it all falls apart," she says. "Then there are clothes, and baths and picking up to do. I run around the house like crazy."
Still, she and other Circle of Moms members are determined to connect with their kids in meaningful ways at the end of the day, no matter how narrow the window of time. Here, they share their tried-and-true strategies for kids ranging in age from infant to teen.
Keep reading.
Dropping Everything For Baby — Temporarily
For many moms, bonding with a baby who is almost ready for nighty-night time means dropping everything else in the early evening hours. Sara M., for example, is away from her baby all day, and her goal is to find uninterrupted time alone with him. To do so, she deliberately puts aside all other household tasks, her laptop, and email Inbox, and focuses on giving him her last burst of energy. "I just try and really be present with him, try not to be distracted," she says. "I save errands for weekends." 
Lindsey K. also puts all of her housework, emails, and dinner work aside while she nurses, plays, and then goes on a walk outside with her 8-month-old daughter. "I don't do any housework at all, answer the phone, or check email until after she's in bed. After I get her down, I get start on dinner and we typically eat around 7:15. While I'm making dinner, my husband (if he's home) will help unload and/or load the dishwasher and get the baby's bottles ready for the next day."
Other moms say they focus on helping their partners have quality time with the baby in the early evening. Stay-at-home mom Katie A., for example, feels she's put in a long day of connecting with her baby, and so purposefully removes herself from the mix so her husband can have time for one-on-one bonding with their daughter. He fares much better with the infant at this time of day, she confesses. "My husband is great with our 7-month-old daughter. Whenever he gets home from work, he always takes her." 
Toddler Tag Teaming and Making Moments Count
Like Katie H., Amanda C. and her husband also tag team when it comes to connecting with their toddler twin daughters. "I'm lucky that my husband is home earlier than I am and is willing and able to start dinner," she says. "After dinner, we try to get dinner and the table picked up and shoot for baths every other night. We get all the chores done after they are in bed. My husband is there to help me get it done faster." More generally, Amanda C. recommends streamlining your evenings as much as possible: "I would look at everything you are doing each night and find ways to either cut back a few nights, or a way to make it easier and more manageable on you."
Other moms of toddlers, like Tracy C., say they are keenly aware of how crucial all the small moments are, so they try to incorporate quality time with their toddlers throughout the evening — during playtime, while preparing and eating dinner, and throughout bath time and bedtime stories. "When I pick [my 2-year-old daughter] up we go home and play for a while before dinner," Tracy C. shares. "She helps pick out what to eat, and we eat dinner together. Then we spend more quality time when I give her a bath and read her a book before bedtime." Erin R. has a similar routine: "For my daughter and I, evenings are all about rushing in dinner, some time to play or learn, and bath time before bedtime. We always read books before bed, too."
Maria H. says she does the dinner and bath duty, and then when her husband gets home they both read or sing to their three kids and talk about their day before they fall asleep. In addition to bonding with her kids, Maria H. says the nightly ritual also helps her calm down too. "Children are joy for their parents — it makes all of your stress at work vanish in a one second if you get focused with your children."
Nightly Talks With Grade-Schoolers
According to Sheri B., cooking dinner, sharing a meal, and cleaning up offer prime opportunities for talking time. She tries to have talking time with her 8-year-old son every night. "We talk about our day, how school was or just stuff," she says. "Once we're all done he has to help clear the table, put everything back where it belongs, and will help wipe the table down," which helps extend the dinnertime and the conversation, Sheri adds. Sheri also insists on turning off TV, phones, and all technology. 
Monique H., meanwhile, makes the most of the after-school events that are woven into each day. In her situation, driving her kids to their sports practices is the time she strives to turn into bonding time. "I make it happen," she says. "It's a struggle, especially with me working a 9-to-5 with kids that are in every sport offered at their school. We endure a lot of quick dinners (pizza and burgers) sometimes, but I make it work."
In addition, Sylvia H. says, she has learned not to be so hard on herself about getting all the household chores and other tasks done. "Honestly, the only way I survive some days is to have really, really low standards," she says. "Sometimes, especially when my husband is working late, dinner is cheese and crackers and grapes or something. I don't sweep the kitchen floor every day, or vacuum every day, or make the bed every day, or clean the toilet every day (all of which my mom used to do when I was this age)."
Squeezing in Chats With Teens
Jeannette C. and other Circle of Moms members say that moms of teens especially have to be strategic about making evening bonding happen. With this always on-the-go age group, it's all about grabbing the moment and sneaking in the questions like how her day went and encouraging the details. But it's also a juggle not to sound like an interrogation.
"I use any amount of time anywhere as an opportunity to open the lines of communication with all of my kids," says Jeannette C. "My oldest prefers texting and Facebook messaging, so that is how we communicate much of the time. I don't delete any of them because we always end with 'love you' or 'goodnight.'" Sometimes she lucks out and her two teens sit at the kitchen table while she is cooking. "I get to hear about their entire day and I make myself available for them to do that," she says. "Some weeks are more hectic than others, so sometimes it is just the car ride to drop-off/pick-up where we get to talk."
In her household, Tamara W. insists her teens join the family for dinner. "You are excused only if you're at work or at an out-of-town sporting event. The dinner table is an open space and a non-judgment zone so anything is talked about and no-one can say anything negative during that time." 
Overall, Erin R. concludes that the key to end-of-day bonding is just "keeping the focus on the kids." As much as possible, she says, "make it all about the kids as soon as you pick them up or get home."