Tips For Taking a Family Road Trip
5 Tips For a Successful Road Trip With Kids
We're excited to bring you a new post from mother and actress Tori Spelling and her ediTORIal by Tori Spelling blog. This week, Tori shares road-trip travel tips.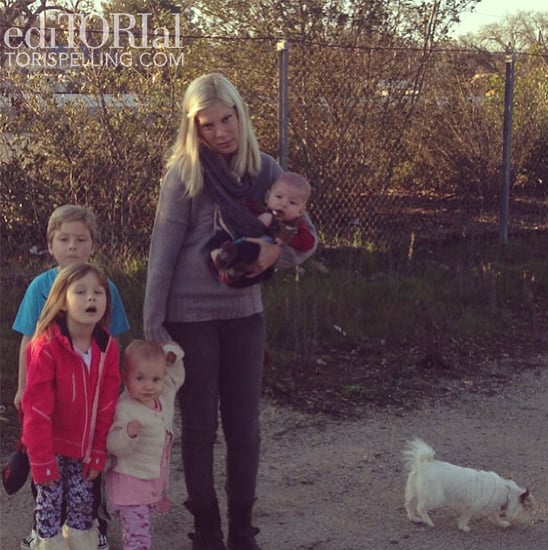 Now that I've made it through being stranded on the side of the road with all four of my babes and a curious pup last February, I prepare for all long car rides. No more of these faces!
Related: 5 Refreshing Twists on Lemonade
Traveling with four babes in tow isn't always easy, but I have a few tips to help momistas who are planning a road trip this season. I've taken an 8-hour trip with these four and it's easy for things to go wrong, but by now I know what to expect. Even when we're just going to be in the car for an hour or two, I always do my best to plan ahead and keep my kiddos entertained. Whether you're filling two seats or a whole mini-van with the little ones, you'll be able to keep spirits up and tantrums down with these tricks…
Pack Snacks. Avoid multiple trips through the drive-thru by bringing the least crumbly crackers like goldfish and the least sticky forms of fruit such as grapes and apple slices. Granola bars are good for boosting energy and individually wrapped snacks are best for containing messes. Prevent carsick catastrophes with snacks known to ease tummy aches like ginger ale and saltines. But save the saltines for their intended use since they sure can get crumbly.
Get a Head Start. After making sure everyone gets a good night's sleep in their own bed, hit the road at the crack of dawn before you have traffic to deal with. That way everyone starts the day in a good, well-rested mood and the kiddos will probably be able to take a car nap before noon.
Keep reading for more of Tori's travel tips.
Keep Them Busy. Long car rides require creativity. Think of as many games as possible because you never know if the little ones will lose interest in something after two hours or just two minutes. Gear up your iPad with educational, age-appropriate movies or games for them to pass around and play. CDs full of fun, sing-along songs are another favorite in our car. I also pack activity books with crayons or washable markers. Our kiddos really love playing 'I Spy' games. Not only are they fun, but they also help them learn their colors and numbers. Have prizes ready for the winners of the family games. But if you're riding with multiple kiddos, be careful with competitive games—this can sometimes lead to sibling rivalry.
Let it Out. Use rest stops as a chance to let the kids run around. A good trick is to make a game of it—bring a kickball or jump rope and play one short game together at every stop—so the kids don't even notice that they're tiring themselves out. This will combat restlessness and induce naptime… don't they look so cute when they're asleep?
Make a DIY Scrapbook. I love creating road trip scrapbooks for each kiddo. At the start of our trip I give each one of my babes a disposable camera to hold onto. At each rest stop I encourage them to snap pics and collect something from each place like a flower, rock or twig. I label their findings and include them in their scrapbooks that we make together after. They're fun to put together and make a super cute keepsake for years to come.
Remember these tips for your next road trip to avoid potential travel disasters. Keeping the kids happy will allow you to enjoy your vacation instead of spending it putting out fires.
What is your number one family road trip tip? Share it in the comments!
More great reads from Tori Spelling:
Tori's Beach Babes Essentials
5 Chic Sandals Under $50
How to Host an At-Home Spa Day
Finn's Finished Nursery Tour