Tips For Using Up Halloween Candy
Don't Throw It Away! Tips For Using Up Halloween Candy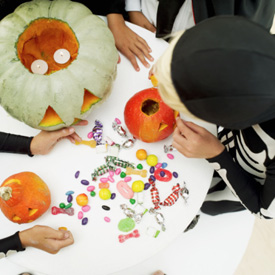 Once the trick-or-treating is done, the kids have crashed, and the loot bags have been raided, parents decide whether to toss the rest of the candy. Before emptying the goodies into the trash, consider the ways the Halloween bullion can be used.
Trade it in. Offer your tot the option of trading in the bulk of their loot for a toy he's been wanting.
Buy it. Teach your kids the value of a dollar by buying back the lil one's sweets (for a reasonable price).
Stuff it. Pack a piñata with candy and bring it out during your next kid-filled celebration.
Donate it. Our troops could use the sugar lift more than most of our kids. Operation Gratitude is collecting 50 tons of Halloween candy to send overseas.
Craft it. Bring out the paper, markers, and glue and see how your child can incorporate the candies into their artwork.
To see the rest of the list and add your own ideas, read more.
Experiment with it. Candy's properties make it ideal for science experiments. CandyExperiments.com has several activities tots will enjoy. Heck, they may even learn something!
Melt it. Many Halloween candies can easily be converted into holiday ornaments when melted. This mom shares the perfect temperatures for doing so.
Take it. Mom and dad's work colleagues will appreciate the energy boosts around 3 p.m. in the afternoon.
Give it. Many local charities, including Ronald McDonald Houses, accept wrapped candy donations.