Top Kid-Friendly Restaurants
The Top 75 Kid-Friendly Restaurants in the US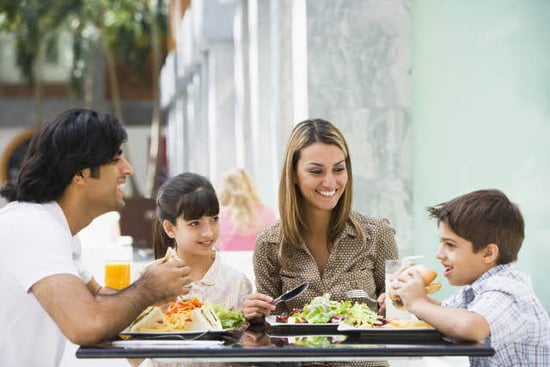 Earlier this week, restaurant reservation site OpenTable announced its 2012 diners' choice award winners for the top 75 kid-friendly restaurants in the country. The list reflects the responses of some five million reviews submitted by active OpenTable users, and the most popular cuisine for kiddies was found to be Italian and American. "These winning restaurants are creating a child- and family-friendly dining experience that has more to do with food and fun than merely price and portion size," says Caroline Potter, OpenTable's chief dining officer. "They offer inventive menus that can satisfy any child, from those with picky palates to adventurous young eaters — as well as mom and dad."
OpenTable's Top 75 Kid-Friendly Restaurants in the US:
Aquarium Restaurant — Denver, CO
Benihana — Encino, CA
The Brooklyn Diner Times Square — New York, NY
Buca di Beppo — 25 winning locations nationwide
Burger Jones — Burnsville, MN
Burger Jones — Minneapolis, MN
Café Pesto — Kawaihae, HI
Crown & Crumpet — San Francisco, CA
Deerfield — Newark, DE
Dee's — Forest Hills, NY
F. McLintocks Saloon & Dining House — Pismo Beach, CA
Genji Japanese Steakhouse — Dublin, OH
Graziano's — Niles, IL

Click here to see the rest of OpenTable's top kid-friendly restaurants!

House of Japan — Dublin, OH
House of Japan — Polaris, OH
The Kitchen at Hard Rock Hotel — Orlando, FL
Kyoto Palace Restaurant — Campbell, CA
Landmarc at the Time Warner Center — New York, NY
Margaritaville at Universal Orlando Citywalk — Orlando, FL
Marleys Island Grille — Hilton Head, SC
Max Brenner — New York, NY
Max Brenner — Philadelphia, PA
Mikado at Desert Springs JW Marriott — Palm Desert, CA
Miyama Japanese Steak House and Sushi Bar — Lone Tree, CO
Mythos at Universal's Islands of Adventure — Orlando, FL
Ninja New York — New York, NY
Not Your Average Joe's — Acton, MA
Not Your Average Joe's — Arlington, MA
Not Your Average Joe's — Beverly, MA
Not Your Average Joe's Lansdowne — Leesburg, VA
Not Your Average Joe's — Needham, MA
Not Your Average Joe's — Norwell, MA
Oceanarium — Honolulu, HI
Pagoda Floating Restaurant — Honolulu, HI
Paradise Cove Beach Café — Malibu, CA
The Pirates' House — Savannah, GA
The Prickly Pear Cantina — Danville, CA
R J Grunt's — Chicago, IL
Rawhide Steakhouse at Wild Horse Pass — Chandler, AZ
Riptide — Mission Viejo, CA
Rizzuto's Restaurant and Bar — Westport, CT
Rosebud Italian Country House and Pizzeria — Deerfield, IL
Rye Grill and Bar — Rye, NY
Sarabeth's TriBeCa — New York, NY
Snow City Café — Anchorage, AK
Summer Shack — Boston, MA
Summer Shack — Cambridge, MA
Summer Shack — Dedham, MA
Table 24 — Orinda, California
Virgil's — New York, NY
Yankee Pier — Larkspur, CA
Did your family's favorite dining-out destination make OpenTable's cut? What do you look for when choosing a restaurant to take the kids to?
Source: Flickr user Tetra Pak