Top Swings, Bouncers and Exersaucers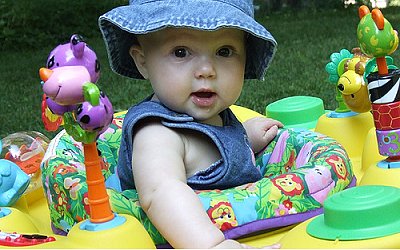 When moms name their can't-live-without baby items, swings, infant bouncers and exersaucers often make the cut. There are dozens of great models on the market, from bare-bones varieties to those tricked out with colorful toys and sounds, but a few brands have earned consistently hearty praise from Circle of Moms members.
Swings
One of the most popular baby swing brands among Circle of Moms members is Fisher-Price. Of the company's many swing models, the Fisher-Price Papasan Cradle Swing is particularly recommend. As Brenda L. shared: "I…have the Fisher-Price papasan swing and my 3 month old LOVES it! She doesn't nap very well in her crib but I put her in her swing and in less than 5 minutes she it out! I would definitely recommend it to any new parent." Nichole D. agrees: "They're total lifesavers when your baby is sick and having a hard time sleeping. We have the Fisher-Price Cradle Swing and I would recommend it to anyone."
Also drawing great reviews from moms are GRACO swings, especially the Sweetpeace Infant Soothing Swing. As Sarah H. explains: "I loved it because my car seat could also pop into it. So if my daughter went to sleep in the car then we could just pop her into the swing without waking her up. It was the GRACO Sweetpeace swing. It is a really great swing. We even traveled with it." Alice T. concurs: "A Graco swing is what I have and it's soothed all 4 of my babies easily!"
Infant Bouncer Seats
Circle of Moms members also give Fisher-Price the thumbs-up for its infant bouncers. Particularly popular is the Rainforest Bouncer, which features vibrating and bouncing motion, a removable toy bar with colorful animals, and songs and sound effects. As Jennifer M. shares: "The best thing we got was a bouncer (Fisher Price Rainforest bouncer). When she was little bitty, the bouncer was sometimes the only way I could get Jessica to take a nap. As she got older, I'd put her in with the play bar attached and it was great fun for her. At 8 months, she's starting to be way too mobile for it now, but it still gets me 15 minutes to take a shower every once in a while."
Exersaucers
Evenflo's exersaucers are recommended by many moms as wonderfully entertaining for older babies. Ashlee Z. shares: "I bought the Rain Forest Exersaucer by Evenflo…There's so much fun and interactive stuff on it, monkeys, an alligator, a bird, lizard, etc., and it can all be taken off so that they can play with the stuff elsewhere. AND to top it off when your little guy becomes a walkin' man the saucer comes apart to turn into a play table with all the gadgets."
Meanwhile, moms like Tiffany W. rave about their Baby Einstein exersaucers: "He LOVES it and will spend an hour in there if I let him. Allows me to do things around the house. He even sits in there while I feed him his fruits, veggies and cereal. Gives him something to do in between bites." Angella M. agrees: "We got the 'Baby Einstein' one and my son absolutely loved it."