Tori Spelling Discusses Her Surprise Pregnancy
Tori Spelling Opens Up to Us About Her Surprise Pregnancy and Her Favorite Birthday Parties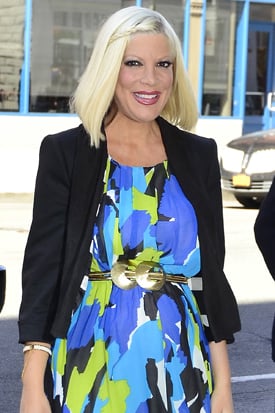 You may want to call her the mother of reinvention. In the public eye since she was a teenager starring her dad's hit teenage soap opera, Beverly Hills, 90210, Tori Spelling has more recently been known as an innkeeper, a reality star, a best-selling author, a boutique owner, and a jewelry designer. But the role that's giving her the most attention these days is mom. Currently pregnant with her fourth child — who was conceived just one month after Tori gave birth to daughter Hattie in October (the family includes son Liam, 5, and daughter Stella, 3) — and due in September, the busy mama is taking all of her roles in stride.
At a party celebrating the release of her first party planning book, celebraTORI, at NYC's craft shop Make Meaning yesterday, we laughed as Tori revealed that her current pregnancy was a bit of a shock. She said, "All my friends keep asking me that: 'Was it planned?' Seriously, Hattie was 1 month old. Do you think it was planned? I was up all night with feedings. I don't know how he got that . . . to make this [pointing at her baby bump]!"
We sat down with Tori to talk about one of her favorite subjects, party planning, and how this pregnancy compares with her previous ones.
LilSugar: You are known for going all out for your kids' birthday parties. How much input do you allow them to have?
Tori Spelling: They plan the whole party with me. I have always vowed not to be that person that was like, "Oh, you want that, oh, gosh, ugh, no, that's not going to be very chic." We just had [Liam's] SpongeBob party. He said, "I want SpongeBob," and I was like, "OK, great" [rolling her eyes], then I was like, "Well, that's cool. I can make mini-sliders and call them krabby patties. I can make these big jellyfish and fish," and I was going on and on. I [said], "OK, hold it . . . Liam, what do you want?" He looked at me and said, "Mom, I just want a piñata." I was like, "Keep it simple, stupid. What are you doing? The kid wants a piñata." And it's true, we need some cute little things at the party, but he was all about the piñata. It's not my call — whatever they want, they get . . . within reason! I mean, budgetary reason!
LS: So Hattie's first birthday is going to sneak up on you right around the baby's birth! Have you thought about her party at all?
TS: Yes, for sure! I have not thought about the theme, but I have thought about what I should do. Should I plan the party before I give birth? Because am I going to be freaking out! The baby is going to be born roughly a month before her birthday. I'm going to be walking around with a newborn at my 1-year-old's birthday party! Crazy town! She loves to dance, so that did cross my mind. When she hears music, she goes nuts! I mean, her version of dance is like jump, jump, jump! Maybe we will have Hattie's dance party.
LS: What was your favorite party as a child?
TS: Oh, my gosh, I think it was my 8th birthday party. That's the one I talk about in the book. That's when I got my first opportunity to plan. It was a roller-skating party, so that was really cool. My mom let me pick out my outfit, and I totally looked like I was in the movie Grease. I had the spandex, hot pink leggings or whatever they are — they are now sold at American Apparel, but when we were younger, they were hot! I had a tube top and a little tied shirt that said "Tori" in rhinestones, white roller skates with neon pink laces, and hair out to here with little clips . . . It was awesome!
Keep reading to see how Tori Spelling and Dean McDermott told the kids they were expecting again, and her favorite baby shower idea!
LS: How's the pregnancy going?
TS: Really well! I've got to tell you, the first three — that sounds so bizarre to me still — I was sick as a dog the first trimester with horrible morning, noon, and night sickness, and exhausted the whole time. This one's been great! It's been really great! Maybe I didn't have any time, so my body thought, "I'm still pregnant!" It didn't have time to start a new one, so I psyched my body out!
LS: How did you tell the kids?
TS: Dean was so funny about it. I don't know where he got this from, but [he said to them], "Do you know how when you get an envelope in the mail, you open it up, and there is something in it?" And they were like, "Yeah . . . " And I was like, "Yeah . . . Where's the point in this? Now I'm an envelope? I know I'll have a C-section, but now I'm an envelope, and there's something in it?" And he says, "Well, what's in it?" They were like, "Ooh, a letter, mail!" Then he says, "So, you know how when mommy has a belly, what's in it?" And they were like, "A baby!" And I was like, "I would never have put that together. That was so bizarre to me, but OK, I'll go with it." It was so funny. They got it, but they weren't shocked. They were like, "OK, the belly went up, then belly went down. Oh, the belly is going up again!"
LS: It's baby shower month on LilSugar. Are there any baby showers in the book or have you thrown any that you are really proud of?
TS: I don't go into it in the book, but it was a strategic move on my part. I'm hoping to do an all-kids-and-baby party book, so fingers crossed if this goes well . . . ! I did a baby shower for my best friend Jenny that I still think is supercute. We did a sleepover party, so everyone arrived in the morning as if you just woke up at a sleepover and the dress code was pajamas, so she looked supercute!