Tori Spelling Reveals Disappointment Over Baby Hattie's First Word
Tori Spelling on the Shock of Baby's First Word
We're happy to share a new post from ediTORIal by Tori Spelling, Tori's daily blog about everything from food and fashion to parenting and relationships. This week, Tori shares her not-so-hidden disappointment about her baby's first word.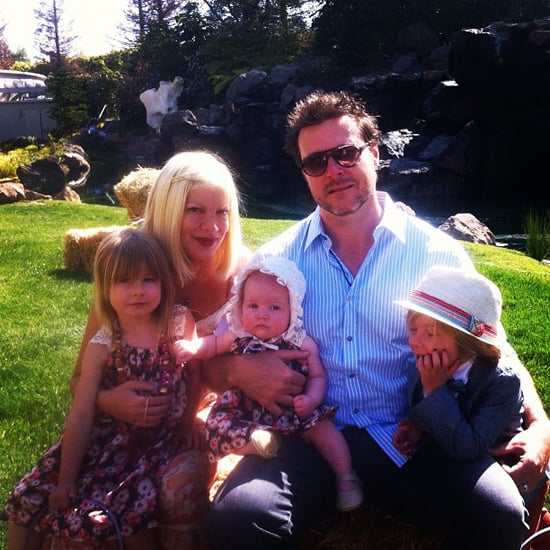 Miss Hattie hit a big milestone last week when she said her first word. It was bittersweet as she uttered the word, "dada."
I'm sure that mamas everywhere can agree that I wouldn't be human if somewhere inside, beneath the beaming pride I felt about her accomplishment, there wasn't a little sadness that her first word wasn't "mama."
Related: Liam's World: On S-e-x!
Liam is my little man, but he came out of my belly with adoring eyes for Dean. He was Daddy's dude from the jump, so it was no surprise when his first word was "dada." He was my first, so while I was a little sad, on the whole I totally got it and was proud.
Stella, on the other hand, is SO me. Her first word was "mama," and her second word was "shoes" — we were kindred spirits from the start. I'd be lying if I said I didn't do a little dance when Stella first uttered "mama," and used my not-so-inside voice to exclaim, "Yes, I won one!" Was there something wrong with me that I was somehow keeping parental score as judged by my children's verbiage?
So now here we were, at our tie-breaker: Hattie. She was the toss-up. For seven months, she's been our little neutral party. Or so I thought! Were she and Dean secretly plotting this all along? I had paranoid visions of Dean cornering Hattie in her jumpy, monopolizing her very busy and precious baby schedule with enunciated repetitions of "dada," so exaggerated that even our half-blind and mostly deaf pug could understand. Kind of the way you're always tempted to quickly teach a curse word to a parrot when its owner leaves the room. Oh wait — maybe that's just me!
Alas, I've now spent a week saying, "Hi, Hattie . . . MAMA!"
"How's my baby? MAMA!!"
"Did you make a poopy? MAMMMMA!!!"
I think she's getting the point.
As happy and grateful as any mom is about their child's milestones, am I alone in this whole nonsense of winning the first spoken word in a household? Let me know your thoughts and experiences in the comments below.
More great reads from Tori Spelling:
Creative Ways to Eat Avocado
Caption This: Shady Lady!
Love Ever After
Bedroom Boundaries
Down, but Not Out!
Source: Instagram user torianddean