Tori Spelling Shares Liam McDermott's Preschool Graduation
Liam McDermott Graduates (Preschool)! Tori Spelling Takes a Look Back!
We're excited to bring you a new post from mother and actress Tori Spelling! Every other week, we're bringing you the best parenting and lifestyle advice from ediTORIal by Tori Spelling, which is Tori's daily blog about everything from food and fashion to parenting and relationships. This week, Tori shares her son's preschool graduation.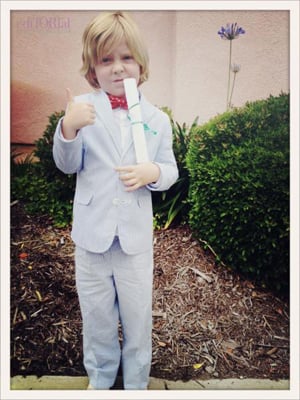 Friday was a very momentous occasion in our family. . . . Liam Aaron McDermott graduated from preschool! It was a proud mama bear's shining moment as my boy accepted his first diploma.
Liam started at his school when he was 18 months with a class called Toddler (mommy/daddy and me). After that he did three years of Pre-Kindergarten. And, on Friday, he graduated. Somewhere deep down I wanted to chant, "Liam McDermott graduates!"— à la Donna Martin — but kept it to myself.
Related: The Perfect 4th of July Tablescape
My dapper man wore his seersucker suit and an M4L (Made for Liam) red polka-dot silk bow tie by Boutaugh. Liam chose the color palette all on his own, I might add. The school set up a nice stage for the graduates as well as a sea of folding chairs for the families in the school's rear yard. Everyone waited patiently when suddenly Dionne Warwick's "That's What Friends Are For" started playing, and then I saw my little man marching out in a line with his other pint-sized classmates and . . . cue the waterworks, which flowed abundantly and freely for the next hour.
They each walked on stage and promptly took the microphone to announce what they wanted to be when they grew up. Liam said, "When I grow up, I want to be a basketball player." It was adorable. Then they performed songs about growing up and moving on, and also sang a song in Spanish while wearing sombreros. Then, at the end, they played "Pomp and Circumstance" (this preschool graduation was no joke!) and announced each student's name to come accept their diploma. I waited patiently with a quivering lip. Then I heard it . . . "Liam McDermott."
Keep reading to watch Liam McDermott graduate and to read Tori's flashback to her eldest child's birth.
As he walked across the stage with utter confidence and a huge smile, everything suddenly became slow-motion for me. I flashed back to his birth, as I remembered Dr. J saying that my baby was coming, and then hearing his first cry while simultaneously Dr. J said, "Tori, he's beautiful!" And indeed he was as they placed my little man cheek to cheek with me. I can still remember the warmth of his skin touching mine. It's as if I had waited my whole life for that one single moment. A moment that would change my life forever. The moment I became a Mommy.
Next, I flashed to him taking his first steps. It was a few weeks before Stella was born, and as if it were yesterday, I can still see him in our backyard taking those first steps all by himself. He looked shocked, determined, and proud, all in the same instant as he took wobbly steps back and forth between me and Dean. And then I snapped back into reality as I watched him fling himself into his teacher's arms to hug them and proudly accept his diploma. He walked back to his place on stage and waved to us.
I couldn't believe my Monkey, my baby, had grown so much. Five years have passed so quickly. I'm so proud of the person he is and the person I see him becoming. I grow more and more in love with him with each passing day. After the ceremony was over, he announced, "I'm a man now!" I smiled. Yes, he is well on his way!
Do you have a great graduation story? If you do, then share it in the comments below!
Love,
T
More great reads from Tori Spelling:
Fourth of July Party Drinks
Fourth of July Food Stations
My Family's Summer Dinner
Size Up Your Guest List
PicTORIal: Behind the Scenes of Craft Wars