Tori Spelling on Twitter
Best of 2010: Tori Spelling Is Your Favorite Tweeting Mom of the Year!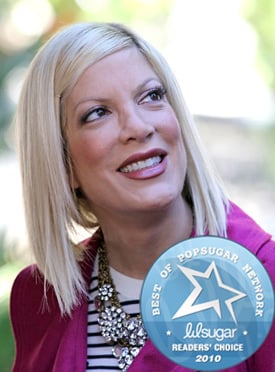 Perhaps her show should be called Tori and Dean: Home Tweet Hollywood! In addition to designing a kids' clothing line, starring on a reality show with her husband, Dean, and writing four books, Tori Spelling has also fashioned herself a Twitter queen, racking up over 270,000 followers and winning our reader's choice award for favorite Twitter mom of the year!
Sharing everything from her favorite products, family photos, and her lil ones' best one liners (a recent tweet "You know your in trouble when your 2-year-old holds out her sippy cup and says 'Mom I want Chianti in here.'") @torianddean's frank talk about raising two tots has placed her on many mamas' "must follow" lists – including our own!
Don't forget to vote in all of our Best of 2010 polls!