Torn Paper Collage
Kidoodles: Torn Paper Shape Collage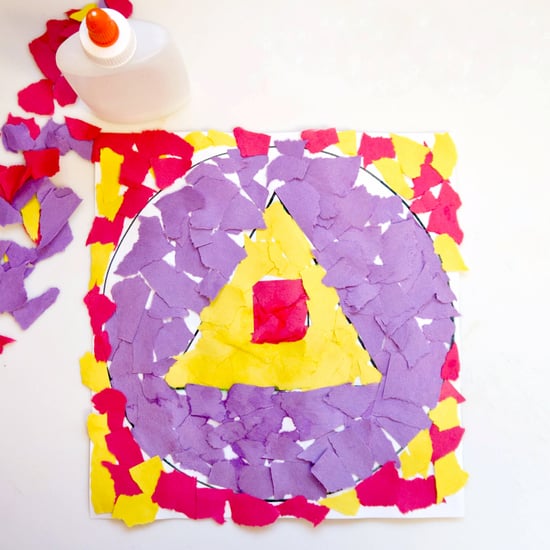 If you've got a tot who's not thrilled about getting crafty, here is an activity that will have his fingers excited about creating. Along with boosting fine motor skills, this torn paper collage craft appeals to kids who like order and defined directions. This project is seriously easy, making it stress-free for everyone while introducing shapes and design to your tot. And it is a great way to use scraps of construction paper or old newspapers and magazines you have around the house — just make sure the papers contrast enough so your lil one has a cool-looking finished collage.
Keep reading for the directions.
What You'll Need:
Scrap paper in three different colors
White paper
Scissors
Ruler
Black marker
Glue
Directions:
Find three different-colored sheets of construction paper, newspaper, or magazine pages. Invite your lil one to tear the papers into small pieces and then organize them into three piles.
Use the scissors to turn the rectangular sheet of white paper into a square. Decide on three shapes with your child for the collage. If you've got an older tot, he can use the ruler and marker to create the shapes himself. Otherwise help your lil one by drawing the lines and then offer to your child.

Now start with the shape in the middle of the collage and invite your tot to fill it in with a light layer of glue. Now he can select one color of torn paper to use for filling in the shape.
Once finished with the first shape, invite your child to continue working on the next, following the same steps but using a different color of torn paper.

Use the last color of torn paper for filling in the final shape and, if there is white paper showing around the edges, invite your child to fill with leftover pieces to finish the torn paper shape collage.
After the glue has dried, find the perfect spot for displaying the finished creation.