Toy Storage Furniture
Mimish Designs' Storage Beanbag: Ga Ga or Gag?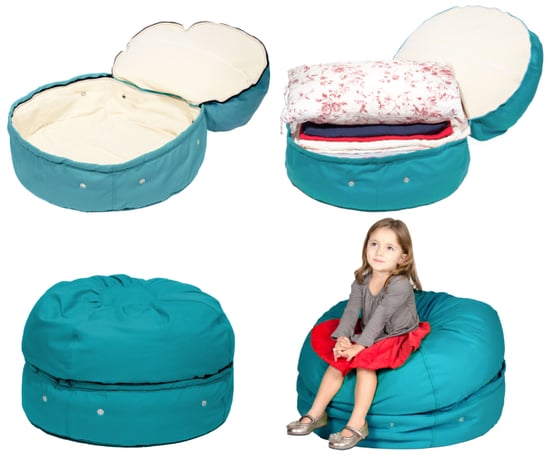 The battle to win the toy storage wars has a new tool in its arsenal — meet Mimish Designs' Storage Beanbag! A combination beanbag chair, ottoman, toy, and storage solution, the Storage Beanbag was designed by mom-of-two Andrea Soto who was feeling a bit overwhelmed with all of her kids' toys. With limited space in her Brooklyn apartment, she needed a functional, kid-friendly place to put her little ones' out-of-season clothes and soft toys.
The Storage Beanbag has a beanbag top filled with post-consumer recycled "beans" and an empty bottom with 5,650 cubic inches for storage. That's a whole lot of space to hold stuffed animals, Winter coats, Summer beach towels, and more. It's also a very comfortable place for tots to curl up and read a book, sit and do their Rainbow Loom, or just relax. Available in 14 different colors — five in machine-washable microsuede ($159), six in spot-cleanable cotton ($149), and three in organic cotton ($169), the Storage Beanbag is designed to fit in any room.