Toy Story 3 Review
Why Didn't Anybody Tell Me: Toy Story 3 Brings Mom to Tears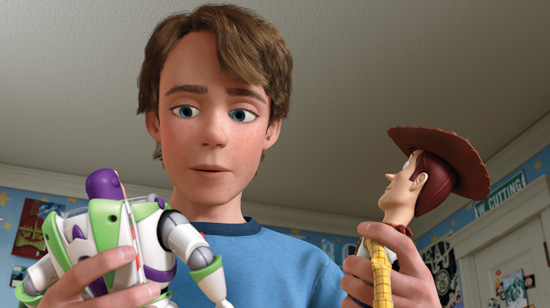 As a child, I had to be lifted out of my theater seat because I couldn't stop sobbing after Bambi's mother was shot. The same thing happened when Dumbo was separated from his mother. I shouldn't be surprised that many Disney (and its offshoot, Pixar) films elicit the same reaction when I take my tot to the theater.
I've seen the first two Toy Story films multiple times due to their heavy rotation on our DVD player and have found them all to be charming stories that resonate with me. But no one prepared me for the avalanche of tears that would take control of me during the third installment of the trilogy. The story of a boy moving beyond his childhood and leaving the reminders of his youth behind had me begging the clock to freeze so my lil ones would remain innocent kids, who believe that their toy planes really can fly and that Spiderman is on the other end of their toy phones forever. We already have bags filled with infant and toddler toys, and I know that the future holds plenty more, but I wasn't ready to face the sense of abandonment that one feels when a loved one moves on.
I left the theater mourning the loss of my children's childhoods 14 years earlier than necessary. I also left that theater ready to cherish each day a bit more than I did before seeing the movie.