Tracy Anderson Pregnancy Fitness
Celeb Trainer Tracy Anderson Shares Her New Pregnancy Project With Us!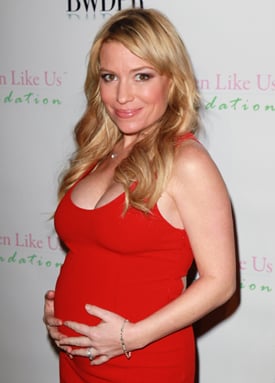 She's trained the bods of some seriously hot mamas — Gwyneth Paltrow, Kate Hudson, Nicole Richie, Molly Sims, and herself included. Now trainer-to-the-stars Tracy Anderson, who's expecting her second child in May (her son is 13), is adapting her famous workout system for soon-to-be mamas, introducing pregnancy DVDs next month.
Tracy sat down with us to preview the project, which she says will introduce a new workout routine for each month of pregnancy. "I believe in everything being very tailor-made in fitness, so one DVD for your entire pregnancy doesn't really cut it," she says. "I wanted to do a DVD for every month of pregnancy because every month is so different."
Check out Tracy Anderson's fitness rules for each trimester below, and stay tuned: we'll be bringing you lots more from Tracy, including some celeb gossip, her theory on the importance of returning to a fitness routine ASAP after baby, and exclusive pregnancy workouts, soon!
First Trimester: "Take it easy! Be conservative with your movements so your body can settle in with the pregnancy. But still move: it can help with nausea by getting your blood circulating."
Second Trimester: "This is your opportunity to keep things strong and active while your bump is manageable. This is the time to make progress with your butt, thighs, and arms and to keep things alert."
Third Trimester: "Keep working on strength, flexibility, and circulation to help with delivery, but you really don't want to be expending too much energy. This is your baby's biggest growth and development period, and you don't want to spend all of those valuable calories your baby needs on your own vanity."
Throughout Pregnancy: "There's a fine line between being an empowered pregnant woman and being a vain pregnant woman. I run into people who have unrealistic goals of what they want to look like pregnant. Your goal shouldn't be the hottest pregnant woman; it should be to have the healthiest pregnancy and baby. Keep moving and stay healthy, and with my method, you'll be able to get everything back after pregnancy."