Tracy Anderson Pregnancy Fitness Tips
Tracy Anderson Talks Pregnancy and Postpregnancy Fitness Tips For Celebs and Real Women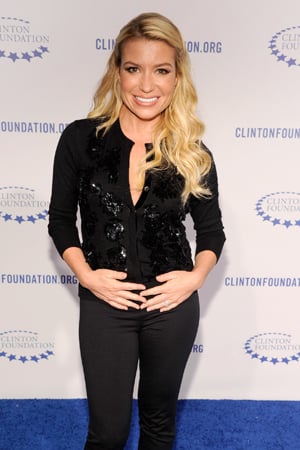 We recently sat down with celeb trainer Tracy Anderson to talk all about her new pregnancy DVDs, which are set to be released next month. (Stay tuned for some exclusive exercise routines Tracy created for FitSugar and LilSugar.) Tracy, who's expecting a daughter in May, opened up to us about her own pregnancies, her celeb clients, and how real women should approach pregnancy before, during, and after it. Check out the highlights of our intimate talk below.
On her pregnancy weight gain: "I gained 60 pounds with my son, and I've only gained 20 pounds during this pregnancy. I was 22 years old when I was pregnant with my son, and I actually discovered my method while I was pregnant. For the last 13 years, I've been giving birth to a business! My body is so tightly knit and so much stronger from 13 years of doing my method. It's so important that you get into good shape before you get pregnant, if you're lucky enough to plan it. Your chances of staying put together are better, and it's so much easier to get it back."
On her pregnancy diet: "With my son, I ate what felt natural, and that was cheeseburgers and milkshakes! I still eat what I crave, but I learned with my son, pregnancy is not the time for a total gorge fest. But even with this pregnancy, sometimes the only thing I can get down is a doughnut or an Arby's sandwich — and I don't even eat Arby's. I've had a lot of food aversions."
On her teenage son: I don't recommend waiting 13 years between children, but my son is so excited about the baby. One thing that's been really great about the age difference is that I've been able to see that my son is going to be a great man because he's been so sweet, nurturing, and protective during my pregnancy."
Keep reading for more on Tracy's celeb clientele and her tips for real women!
On pregnancy fitness: For a lot of women, it just doesn't feel natural to be jumping up and down when they're pregnant. You shouldn't get overheated. With my pregnancy workout, you get the benefits of exercising during pregnancy but you're never doing anything risky. The good thing about my muscular structure work is that you can be very strategic — focus on the places where many pregnant women get aches and pains, open up the hips, keep things loose . . .
On postpartum workouts:: "It is absolutely essential to not delay after your doctor gives you the OK. Jump in full force. You have a small window of time to be able to get back your old body; if you wait too long, the excess weight settles in, and your body accepts it. You can get rid of it, but it's much harder. The worst thing you can do is use your baby as an excuse not to get into it. I know it's hard; even to me that sounds harsh. But those 30 to 60 minutes, you can get that in. You have to."
On a postbaby weight-loss strategy: "If you think you're going to diet it off or breastfeed it off, think again. The only way to get your skin tone back is through muscular engagement. Most of the women I work with, they need results quickly; they have a lot of pressure to get back to their careers, so I've developed a real strategy with muscular structure and changing things up every 10 days. Check out Metamorphosis. It works."
On her famous mom clients: Kate Hudson is a very balanced girl. She travels a lot, but she's been great with my method. I didn't do a lot of strategy with her recent pregnancy, but she did a lot before, and the method is powerful. Molly Sims is just doing everything that I say. She's very focused and has been doing the method for a long time. Gwyneth has been doing the method six days a week for six years. I met her when she was trying to get toned up after having her kids, and look at her now.
On Jessica Simpson: I met with Jessica when she got engaged, but that was about it. I haven't worked with her at all. She has my DVDs though!