Travel Tips With Kids
4 Tips That Will Make Tot Travel Shockingly Easy
Between the holiday deals and various breaks, Winter can be a prime time for family travel. If you're just beginning the planning process, here is everything you need to make your trip with the little ones easier. Whether you're looking for a tot-friendly destination or a way to ship your necessities in advance, the tips below can help. While we can't prevent flight delays, traffic, or tantrums, we can help you be prepared for anything on the road this season!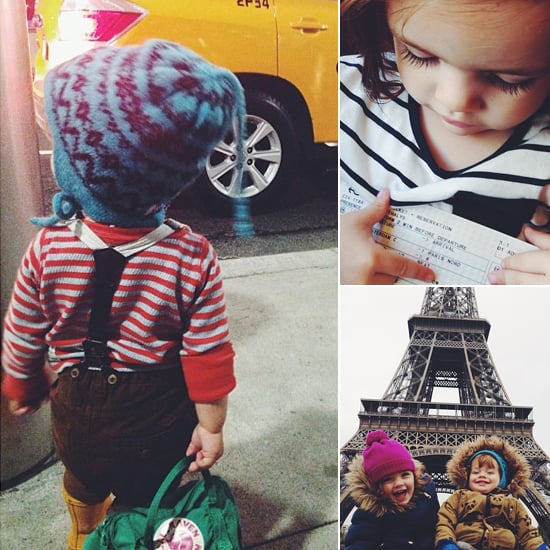 Make It Family Friendly
If you're planning a leisurely getaway with the babes, picking the right location will make all the difference. If you don't have a set destination, Minitime is a great place to start. Unlike other travel sites, it recommends hotels and attractions based on your kid's age. You can also get tips and inspiration from a network of well-traveled parents, too. It's a rather genius way to assure a good time and avoid accidentally booking a stay at a couples retreat.
Plan Ahead
All mamas know the power of planning ahead, and it can't be emphasized enough for travel. Aside from booking flights and hotels, dealing with the details will cut back on the stress. If you're traveling with small children, Jet Set Babies will ship everything, like diapers and booster seats, to your destination. If you need a babysitter, be sure to book in advance — start your search with Sensible Sitters or ask friends in the area for a recommendation. Last but not least, don't forget the little things like checking in online and downloading the necessary games, movies, and apps in advance.
Pack Lightly
Although it sounds crazy to pack only a bag or two, a light load will make it easier on everyone — not to mention, save your back! If you can, consider taking just a few outfits and doing laundry wherever you're visiting. Additionally, if you'll be staying with family, ask if it's OK to borrow shampoo, lotion, and other essentials. Do keep the gear light and ask your hotel and rental car company about accommodating crib and car seat rentals. Packing entertainment is a must, but keep it limited to a few things like an iPad and his/her favorite toy.
Stay Organized
While unexpected things are likely to occur, organization will make it easier when it does. To cut back on the paperwork, there are many family-friendly travel apps to keep everything together. Lists will also help you remember what needs to be done (try to keep lists in your phone so they are always with you). Lastly, having a flexible itinerary will cut back on the last-minute scrambling to keep your crew entertained.