Tricks of Motherhood
Tupperware in Low Cabinet: The Best Trick My Mama Taught Me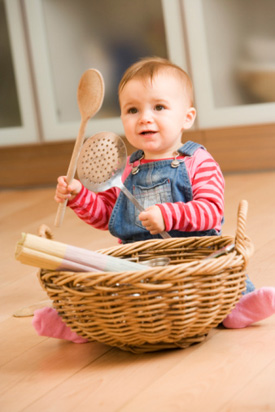 There are plenty of manuals about motherhood, but nothing takes the place of the advice a woman receives from her own mother. Regardless of whether a new mom decides to raise her children as she was raised, parents have the wisdom of experience.
We often ask celeb mamas the best trick their mothers taught them in interviews. But, today I'm turning the table. I'll kick things off:
My tot follows me from room to room in our apartment, but once I stay in one place for more than a minute, he looks to get into trouble. The kitchen is full of heavy pots, pans, and baking dishes so he doesn't have much to play with, and toys don't seem to cut it. My mom suggested shifting around the contents of a few shelves to give him access to non-breakable storage containers. Now, when I'm whipping up dinner, he opens "his" cabinet and entertains himself with Tupperware, wooden spoons, and leftover takeout containers.
What's the best trick your mama taught you? Share it below, or in our Four Lil Questions group in the LilSugar Community!