Truth About Pregnancy
True Story: The Ups and Downs of Pregnant Life
If you said "It's about time!" when you heard about the law in Pennsylvania that bans touching a pregnant woman's belly, then you know all too well what life is like for an expecting mom. You also know that you can read all the pregnancy books out there, but nothing prepares you for the truth until you're in it with a baby bump to bare. Ahead, relive those nine months of your life that were the best of times and the worst of times, all at once.
You Take the Test That Confirms Your Suspicion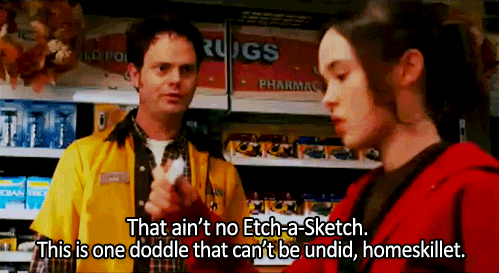 And Do the Best Happy Dance the World Has Seen
But In a Short Time, Your Gchat Status Goes From ":)" to "Tiiiired"
Still, You Muster the Energy to Go to the Club One Last Time
Soon You Get Aggressive For the Smallest Reasons
Click on for more pregnancy GIFs!
When Your Friends Notice a Difference, They Start Asking Questions
So You Tell Them the News and Get Mixed Reactions
At the Same Time, Your Clothes Fit Tighter and Tighter
But You Don't Care Because You Can Eat Whatever You Want
You Book a Pregnancy Shoot Because — Why Not?
And You Take It VERY Seriously
You Even Start to Discover Tricks With Your Belly
But Hate It When Strangers Think They Can Touch It
One Day You Wake Up and Realize You Fit Into Nothing. Nada.
Another Problem: You Can't See Your Feet or Walk Like a Normal Person
You Go From Excited to Grossed Out by Parenting Classes
And Suddenly, You Don't Even Recognize Yourself
So You Refuse to Leave the House Unless You Have To
And When the Time Finally Comes, You're Actually Excited to Go Into Labor
Until It Really Happens, and Then You Just Want It to Be Over ASAP
But in the End, You Know It Was All Worth It