Turkey Pineapple Meatballs For Kids
A Hawaiian Adventure Without Leaving Home: Turkey Pineapple Meatballs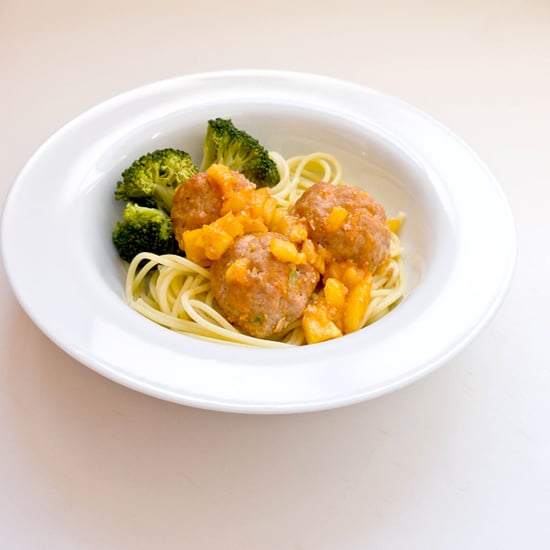 Finding meals the whole family enjoys is often a challenge. Kids can be picky eaters — one day loving a meal and the next unable to even look at it. So spending hours in the kitchen tossing something together that they might not even eat is frustrating.
Make dinner fun with a Hawaiian-inspired meal the whole family will love — Pineapple Turkey Meatballs! Along with being a kid-friendly dish, it takes less than 30-minutes to toss together and is complemented with steamed broccoli and quick-cooking spaghetti. Pineapple offers a sweet-and-tangy flavor that coats the meatballs, making them anything other than boring. Bonus points if you can get the family to do a hula dance on their way to the table!
Keep reading for this tasty weeknight recipe!
Pineapple Turkey Meatballs
From Sarah Lipoff, LilSugar
Ingredients
1 pound ground turkey
1 green onion
1/2 cup fresh pineapple
1 egg
1/4 teaspoon salt
Dash pepper
1/2 cup plain bread crumbs
1 teaspoon vegetable oil
2 tablespoons ketchup
1/2 cup water
Cooked spaghetti
Steamed broccoli
Directions
Place the ground turkey in a bowl and preheat the oven to 425F. Chop the green onion and add to the turkey along with the salt, dash of pepper, egg, and plain bread crumbs. Stir the mixture until the egg is incorporated
Now it's time to get messy! Cover a sheet pan with a length of tinfoil and invite the family to roll small rounds to create the meatballs. Place on the pan leaving a bit of space between each. You should end up with around 12 to 14 meatballs.
Pop the meatballs in the oven and set the timer for 20-minutes.
This is a great recipe for budding chefs, perfect for honing beginning knife skills. Your child can use a butter knife to help dice the pineapple. If you don't have fresh, canned is just as good. Add the diced pineapple to a medium sauté pan when finished
While the meatballs are baking, heat the oil in the medium-sized sauté pan over low heat along with the diced pineapple. Enlist your child to squeeze out, measure, and add the ketchup to the mixture along with measuring and carefully adding the water. Give things a stir and let simmer.
Boil quick-cooking pasta and steam a head of broccoli while things are baking and simmering.
Before serving, toss the meatballs in the pineapple sauce, then place on top of the hot pasta with a side of broccoli!
Information
Category

Main Dishes

Cuisine

North American