Tyler Florence Homemade Baby Food
Tyler Florence Talks Picky Eaters and Sending Kids to Bed Without Dinner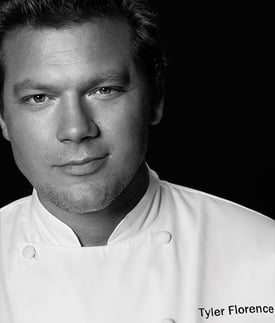 Though he races around the country serving up alternatives to fast food as the host of The Great Food Truck Race, Tyler Florence slows things down when it comes to feeding his own kids. The Food Network veteran and father of three — Miles, 14, Hayden, 4, Dorothy, 3 — is making it easier than ever for parents to cook healthy, veggie-rich meals for their kids. I sat down with the chef to discuss his new family cookbook, Start Fresh: Your Child's Jump Start to Lifelong Healthy Eating, and learned a little more about his one family meal concept. Here are some more excerpts from our conversation:
On why he's making children's food his new mission: If you think about most baby foods, at 33 cents a portion — and that's two different companies making a profit on top of that — you have to wonder, what kind of quality is really in that jar. I'm a dog lover, and our pet food costs more per portion than the jarred [baby] food you find at the grocery store. When we start to piece this whole thing together, we started to realize that there was a market for super-premium baby food.
On avoiding the creation of picky eaters: Dr. Alan Greene writes in my book that if you don't introduce children to foods by the time they're 2 or 3, there's a syndrome to protect themselves from experiences that may harm us. So if you think about that from a primate state, that if your mother hadn't shown you something to eat by the time you're 3-4 years old, maybe you shouldn't eat it . . . they look at it like it will harm them.
On sending kids to bed without dinner: Sure, [we do it] all the time. They're not going to die. If it gets to a point where you've had enough of them throwing the plate on the floor, then you have to remove them from the situation. Because they're just destroying the experience for everyone else. It's really about knowing in your heart that you're creating a well-balanced adult, and that you're not going to create that child that is still eating chicken fingers when they're 16 years old.
Keep reading to see what Tyler recommends parents keep in their freezers and whether or not he's opening a baby food truck!
On what moms should keep in their freezers: The only thing that's in my freezer is vodka and ice cream and maybe a couple other frozen things. We have those sweet potato fries in there, but that's really it. We try to keep things as fresh as possible, which means we shop a couple of times each week. When you open up the fridge, it needs to answer one question, what's for dinner?
On competing with big food companies: As a parent, you are up against food scientists from big companies that are designing these artificial flavors to make your child happy. If you're not cooking for your child, they're going to win, and then you're just standing in line with the obesity epidemic. You have to do the right thing from the start.
On the viability of a baby food truck: I don't know! We actually have in our business model a Sprout store, where it would be small cafe for moms and babies, where you could basically go and get baby food for a couple of days.
Want to see more about Tyler Florence's fresh-eating philosophy as well as some of his recipes? Check out the first part of my interview here!